Today's skin care practice employs the use of topical creams and lotions which supports the integrity of the skin. It focuses on dermal nutrition while enhancing the skins appearance and relieving some skin condition. For most of us, skin care has become a daily routine where we prefer to use natural skin care products like essential oils.
Extracted from plants, essential oils can be obtained through distillation and cold-hand pressing which is a method popular with citrus oils that also carries its natural fragrance. The extracted essential oil is highly concentrated and most products available in the market have been diluted to a 5% concentration.
How to Use Essential Oils
If you happen to have a concentrated essential oil, you need to dilute with base oil using the following ratio: 1 drop of concentrated essential oil for every milliliter of base oil. Before applying it to your skin, be sure to make a skin test as some of us are allergic to certain plant material and the best place to do this is at the inner side of the forearm.
Use Oils in Body Butters
Body butters are considered a luxurious moisturizer for our skin.  It is an oil-based emollient that can hydrate our skin at its best. It is often whipped up or a mix of Cocoa butter or Shea butter (as a base) with an oil.  This is different from a lotion which is mostly water (aqua), little oil and usually mixed with alcohol as a preservative which may end up drying the skin. This causes you to keep applying again & again.
If you find yourself constantly moisturising yourself with a lotion every hour or so, then it is not moisturising enough.  I'm not saying that all lotions are bad, but from I've used from past years, I haven't really found any good ones in the past – which drove me to make my own.
Nowadays there are many  lotions that I have tried that aren't too bad, where the ingredients are catered for eczema.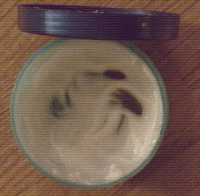 Here are some of the ingredients that I have experimented in my homemade recipe.
Oils that I have used in my recipe:
Essentials Oils( I also add essential oils)
Chamomile – powerful anti-inflammatory (usually effective on red, dry, irritated skin and calming allergies), fight depression, relieve anxiety, great tissue re-generator (more info)
Clary sage – help minimize stress & anxiety (more info)
Frankincense – promotes cellular regeneration (more info)
Geranium
Lavender – good for immune health, calming and hydrating.  Extracted from the flowering mint plant, Lavender is one of the popular essential oils and is favored by those who are just starting to try it. Applying lavender will relieve dry sensitive skin and regulates excess production of natural skin oils.  Aside from the skin benefits, you will also be relaxed through aromatherapy using the scent emitted by the oil.  It has a wonderful combination of fresh, floral and clean scent. Popular uses of lavender oil include foot scrub and body massage or may be added to your hot tub bath that comes perfectly with Epsom salts.
Linden – moisturizer (more info)
Sandalwood – moisturizer (more info)
Tea tree (but does not blend well together w/ other essential oils in terms of smell)
Bergamot – has a little fruity scent to it, but also heard its good for eczema (more info)
Helichrysum – (more info)

Patchouli  – is claimed as one of the best oils to use in Eczema. Unlike other oils, it improves with age like wine.  It helps improve the skin ranging from very dry, cracked skin to very oily and acne prone skin.  To read more on the other uses of Patchouli follow this link.
Orange – When extracted using the cold-pressed method, Orange essential oil(extracted orange peel) is a very popular choice because of its versatility. Has Anti-agent properties and is a beneficial ingredient in lip balms. The citrus scent that comes synonymous of the fresh fruit, offers you a sweet and peaceful aroma where the emitted scent can also be appreciated to the person near you. Most consumers used orange essential oils as part of their morning routine – increase in energy and provides mental uplift.
Rose
Eucalyptus – cooling effect (other benefits)
Rosehip seed – high in fatty acids, good for dry, irritated, weathered skin in need of nourishing. Promotes cell renewal.
Peppermint – The fresh, nostalgic and easily recognizable scent of Peppermint is another popular essential oil that supposedly stimulates those with greasy(oily) skin, while invigorating your mind creating an atmosphere of peace. Applying peppermint gives you a cool and tingling sensation which makes it a perfect remedy if you had a dragging day at work. Generally preferred by persons with oily skin, peppermint regulates your skin's oil glands. Peppermint is best enjoyed when you apply it to your head and neck offering you this refreshing scent and giving you the much needed boost while recharging from the days draining work.
Final Thoughts
Using the power of nature in skin care bear several benefits while those mentioned above are just a few in the list as many have other benefits.  For example, some can help headache relief and sound sleep stimulation are just some of the instant effects. Aside from feeling good, essential oils indirectly benefit your surroundings where the oil's scent can enhance the fragrance of your shirt, pillows and other linen.
If you would like a free copy of my homemade recipe, you can join my mailing list below.
[loveclaw_buttons]