For many of us, Creams are important in our everyday life to help fight dry skin.  Some people suffer from dry skin more than others and need to moisturize their skin more often.  Dry skin can be a seasonal issue, where it can be worse during the Winter months.
For someone suffering from Eczema like myself, I need more of a potent moisturizing cream especially for my hands than the regular ones found on the market.  The issue is that they are so many choices on the market, with many people and companies recommending different ones.
Secret in Finding the Best Creams for Eczema?
There Major TIPS
Ingredients (Explained in detail later in this article)
Sensitivity Test(see it here):  Placing a small amount of cream on a patch of skin. Wait 24-48 hours to see if any negative reaction.  *Important; if you react badly, note down all the ingredients on the box as you may be allergic to some of the ingredients.  Discuss with your dermatologist about your reaction.  This will help you narrow down on your future choices.
Winter Versus Summer Test (Explained in detail later in this article; I use a different products during the Winter)
Why Test?
It is important to  find if you have allergies to certain ingredients.  Also each individual produces different levels of oil, the more oil one produces, the lesser the skin suffers from dry skin.  Testing your skin will help guide you to the right potency of cream that works for you.
What part of my body should I use creams for?
Creams generally have low ratio of Aqua (water) and therefor thicker than lotions which has a higher ration of Aqua.  They are good for areas that are commonly drier than other parts of the body such as knees, elbows, hands and feet where lotions may not be as effective.
Different Cream for your hands?
One area of the body that needs its own cream are the Hands.  Hands especially the palms along with the bottom of the feet, are exposed to outside elements more often and the skin is much thicker and tougher.  For this reason, we need a heavier or hand moisturizers with real effective ingredients to penetrate these layers.
So if you are suffering from a higher case of eczema on the hands, you may try these recommended hand creams for Eczema that I have reviewed.
My Eczema Cream Reviews List
What ingredients should we look for and why?
Glycerin
According to research and skin specialists it is mentioned that glycerin plays an important role especially hand creams. It's the perfect night cream to prevent aging of the skin. If you ever noticed, the best ones will always have "glycerin" as one of the top first ingredients.  This is the same stuff that is used in the Original Nivea.
My mom who uses the same Nivea facial cream believes it has given her a more youthful appearance even before I did further research & any investigation. Perhaps it is true along with good genes, as she does look younger than her chronological age.
Urea
Another good ingredient is urea, it works the same way as the glycerin, except it can act as a small light exfoliant that helps get rid of dead skin. It's has become very effective for my extremely dry skin especially during winter. My dermatologist says it's a  safe ingredient.  Most creams with Urea will not say how much it contains, but most will have approximately 10% of Urea.  Ten percent is usually the right ratio for texture & consistency, any more of it will become too oily and messy.
In an another post, I reviewed one called the Gold Bond Ultimate (Soothing chamomile skin therapy) which contained a lot of urea & glycerin.   I really recommend this one.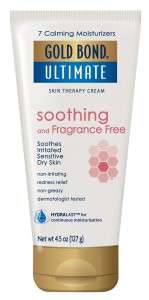 "I must say I was real impressed with Gold Bond, no irritations on my skin and it was nicely textured, thick, and I experience great skin absorption. For the price, it just recently became one of my favorites."
Other Ingredients
I have researched and have experience in using many other ingredients, primarily oils.  Oils such as coconut oil, rosehip oil, Almond oil etc, which all have positive effects. Also look out for essentials oils such as Chamomille, Tea Tree, Sandalwood and the list goes on.
They all have different benefits and you can read all about them in my Homemade Body Cream Ingredients list.  I have reviewed over 20 ingredients.  You could look for for skin products with these ingredients but you could utilize them by creating your own homemade version.(Read the ingredients list and join my mailing to learn how to make your own).  You will essentially save money in the long run, but the drawback is that you have to put the time into creating them.
How often should we apply in a day? In the winter and summer? Or hot and cold day?
We should use our cream as often as we need to. There is no specific fixed number of times we need to reapply assuming that we have the right type for our skin. It varies among each individual if we take age, skin type, active lifestyle, and possibly ethnicity background into account.
When I had a skin assessment in one of those beauty departments in the Winter, I was told that I had amazingly perfect skin hidden underneath all the dryness and damaged skin. They used some fancy technology with a small microscope to graze my skin where you can see all the layers of your skin on a computer screen. They check all areas of my face and hands.
That's when I realized I did something right! As an individual who lives in one of the coldest city in the world, there is no doubt I need to retain as much moisture in my skin especially in winter. So what is important is having good moisturizers.  Read my new article on tips for protecting your Eczema skin during the winter.
Understand that both glycerin and urea in skin products cannot attract moisture from the air to our skin. Rather it acts best as a potential skin barrier preventing moisture loss.
In the summer with a hot humid climate, it is not necessary to apply many times as there is constant moisture in the air to help retain the moisture in our skin.