I previously reviewed one of Goldbond's ultimate moisturizers called GOLDBOND ULTIMATE Skin Therapy cream labeled with "soothing and Fragrance Free." The cream was thick and absorb very well onto my skin. I had no irritations and I enjoyed it.
Recently there have been quite a few GoldBond cream commercials if you live in North America showcasing their new Eczema version. I finally found this product during my recent travels and decided to write a quick review from using it for over a week. I usually test a product for 3-6 weeks before doing a full review but I decided to make this one exception because of its hype.
The new GoldBond product is called the ULTIMATE 2% Colloidal Oatmeal ECZEMA RELIEF Skin Protectant Cream!
Main Ingredients List
This cream contains oats to help moisturize the skin as well as key ingredients "Ceramides" and "Glycerine", which helps even more in moisturizing the skin. Click here to read more on Ceramides and lotions.
Best Skin Areas For Application
It is excellent to use around the neck, elbows, shoulders, knees, feet and EVEN HANDS!! I am usually a very tough critic when it comes to hand creams or anything used on the hands regarding to how tough it is for moisturizers to work in that particular area (I have written the anatomy of it).
EVALUATION OF ITS CLAIMS
It claims to relieve 5 symptoms of Eczema such as itch, dryness, scaling/peeling, roughness, and redness. It also mentions that it is steroid free and fragrance free.
Like all of their products, it contains many types of moisturizers and skin nurturing vitamins. In their clinical study:
8 out of 10 saw significant relief for dryness, scaling & roughness in 2 weeks
9 out of 10 saw significant relief for redness/irritation in 4 weeks
Based on personal use for about a week or so, I can say that it does an excellent job at moisturizing my skin and preventing overall dryness especially in around my shoulders and neck area as it is very scaly.
The cream is so powerful that it sufficiently moisturizes my hand as mentioned earlier. It has a bit of a cooling effect possibly from one of its ingredients aloe leaf juice.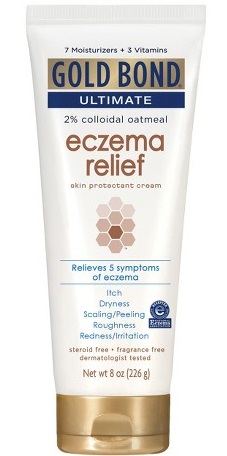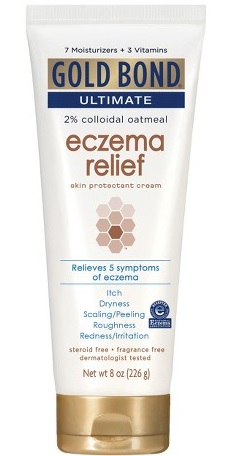 >>Click Here to See Pricing, Ratings and Reviews on Amazon.com>>
Will it stop the itching?
It will not stop the itch right away, but after a few days of use, there was a reduction in itchiness and redness.
The only skin area that I haven't tested yet is on my facial area.
FINAL VERDICT
After a week of using it, I am actually impress with it and would buy this again if it becomes available in my area. Keep in mind that moisturizers with Ceramides are generally pricier and more effective than other moisturizers without it (unless it's organic).
The Goldbond Ultimate Eczema Cream goes for $10 USD and is definitely worth it if you are looking for something heavier than a lotion.
This cream can be use on any part of your body and possibly even your face in which I haven't tested yet. Lotions are good enough to use in bodily areas except for joints and hands in my opinion especially if money is an issue for you, as lotions are cheaper than creams.
Overall I love this cream as it has help reduce the itchiness and scalliness around my neck area, as it is one of the toughest and roughest skin area on my body. I used to get comments how bad my neck looks (with couple blackish spots may be due to intense scarring) as it was one of the most sensitive parts prone to itching. After using the cream for many days, my skin around my neck is a lot smoother and less leathery.
It is definitely better than Goldbond Ultimate Skin Therapy cream when it comes to moisturization, an important component for us suffering from moderate to severe eczema.
Since I tested this for a week, I will report back here in 4 or 6 weeks if any issue arises for this cream. For more information on my cream reviews for Eczema visit this link.