How I Came About to This Product?
I happen to stroll around the biggest local grocery store to kill time in between meetings. I came across an aisle full of lotions, body oils, creams, and hand creams. There were not many hand creams around. I almost exited the aisle as most of them I past were the typical ones I see everywhere. What caught the corner of my eye was Aveeno Eczema Care Hand Cream. Something I have never seen before!
Just like the Aveeno Eczema cream version, it also comes with colloidal oatmeal and ceramides and stated to be steroid-free & fragrance free.
Honest Unpleasant Experience With Aveeno's Previous Eczema Care Cream
To be honest, I wasn't very impressed the first time Aveeno Eczema Care Cream came out. Every application of this cream worsen my eczema when my skin was at its worse. Back then, It actually had mixed reviews. Regardless of that, it was the first cream that moisturize my skin super well. I'm thinking why it made me itch so much, but yet it worked best at moisturizing my skin. I really had high hopes for it… and I was a bit disappointing back then.
Re-Test?
However, recently a co-worker said it helped with her eczema on her face While speaking with my dermatologist last month, I recall that some of his patients loved it and that it is somewhat in par with Goldbond's Eczema products where it is made from the same company. If any of you read my earlier articles, I really loved Goldbond's Eczema cream as it hasn't really caused me any problems. My dermatologist has told me that sometimes the Aveeno Eczema care cream can cause problems when eczema is at its worse. Yet many others loved it! It could be possible that there could a change in ingredients over the years that may contribute to it. So maybe one day I'll give it another shot with a detailed review.
Regardless of my previous bad experiences with Aveeno Eczema Care product, I went ahead and describe my true experience with this Aveeno's Hand cream version.
Aveeno Eczema Care Hand Cream Examination
This product claims to have Triple Oat Formula which therefore improves 4 symptoms of eczema:
Itch
Dryness
Redness
Irritation
Ingredients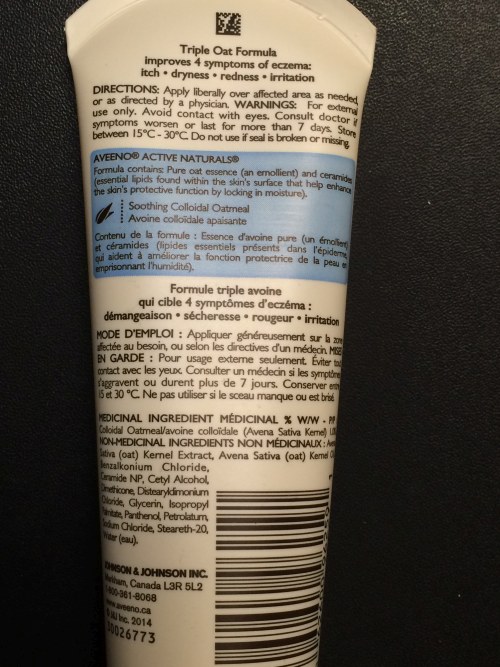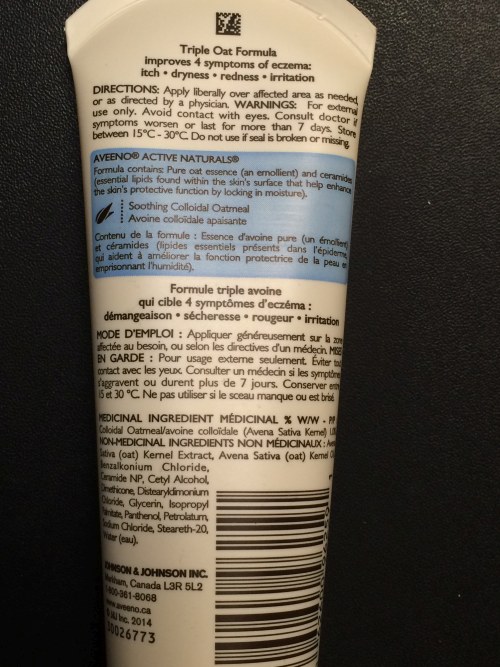 There are 3 types of oats used. One of the main ingredients listed on the back of the hand cream is sativa (oat) kernel extract. While reading from many sources, I found that sativa kernel extract contains benefits such as polyphenols, beta-glucan, amino acid and antioxidant whose function is to condition (soothing and moisturize) and reduce inflammation along with a bit of abrasiveness. There's a possibility that it can alleviate skin conditions including psoriasis, acne, and generally dry itchy skin including eczema.
How Does it Feel?
If you have tried Aveeno products in the past, you can tell there's a bit of grainy & oat like texture in it as you apply into your skin. With the Aveeno Eczema Care Hand Cream, you hardly know that there is any. It has a transparent and a hint of brownish appearance possibly from the oats. I don't find it very abrasive at all. It is very smooth, easily sinks into the skin, and very hydrating as this is important for any hand creams. Another plus is that it has ceramides. You can read more about the importance of this ingredient in my Top lotions list for Eczema.
For this Hand Cream review, I basically used Aveeno's own criteria for reducing the 4 symptoms of Eczema
Itch: After reading couple reviews, one claimed that it tremendously stop the itching. After using for more than a week, I hardly ever scratch in my itchiest spot near my wrist and slightly beneath my thumb. I also have major Eczema issues on my knuckles… and this cream helped toned it down by a lot!
Dryness: The scaliness, the wrinkling and dryness of my hands were reduced… so I am definitely happy how it looks now. Overall my hands and fingers are more plumped and seem a lot better than before. Winter is usually the worst time, where skin is at its driest, so I am very impressed how it turned out.
Reduced redness? YES!! Since the itch is the root cause and has been taken care of.
Irritation? NONE!!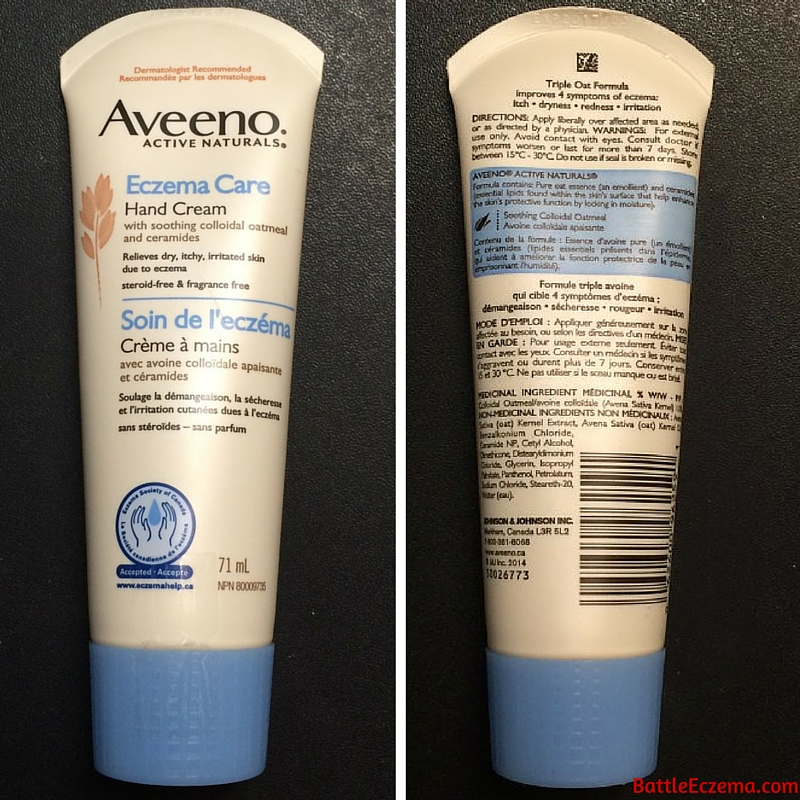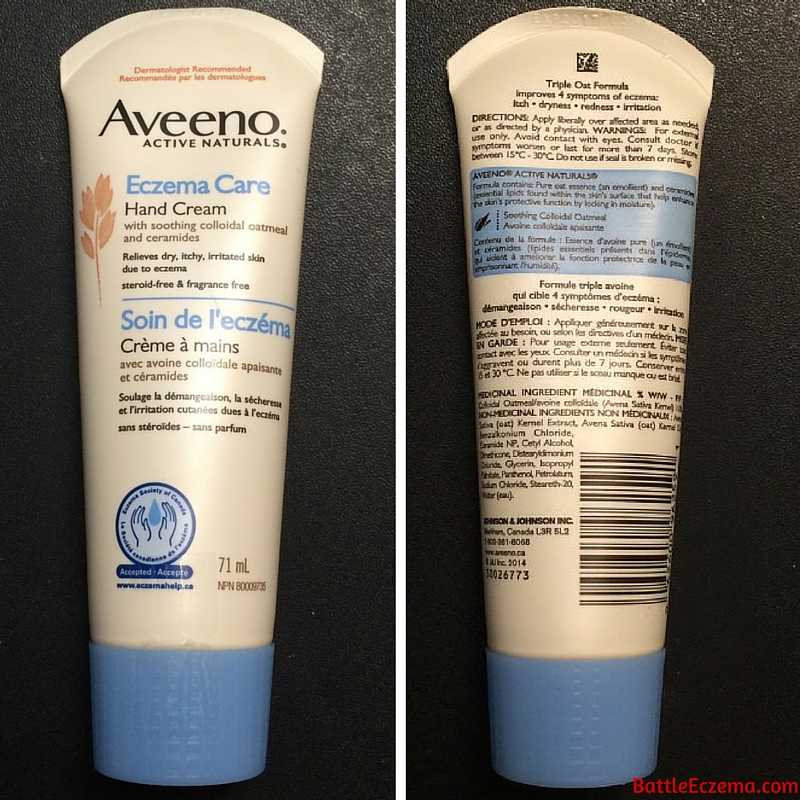 ->Click Here to See Pricing and Reviews on Amazon<-
My Final Verdict
Honestly, this is probably the most affordable (less than $10 dollars) and very effective hand cream. So Aveeno Eczema Care Hand Cream claims its rightful place to be one of my top lists for hand creams AND meet the requirements of having the right amount of ceramides. It may be very economical since you don't need a lot of it. Your hands may still feel moisturized even after a wash . The skin on the hands are one of the most difficult parts of the body to treat due to having a specific type of skin layer that causes more skin thickness than anywhere else on the body (except sole of feet). You can refer back to the anatomy of the hand and my top hand cream list article.