I recently visited a Health Expo in my local area and I happen to find an interesting cream product for Eczema from YAFFA SKIN CARE INC (North American Distributor). What caught my attention were the pictures they had on display of various skin conditions, the typical before and after pictures.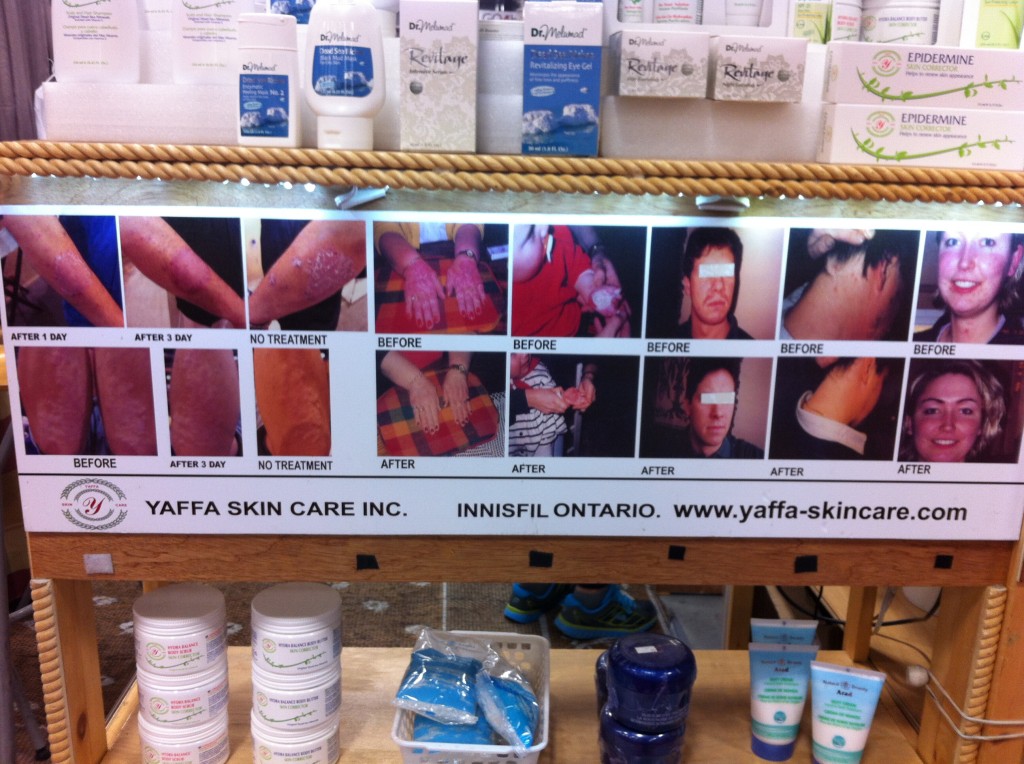 They had an eye-catching banner with the words "All natural, alcohol free, parabens free, SLS free, no perfume, no petroleum by products," which increased my curiosity to head over and check their product in detail.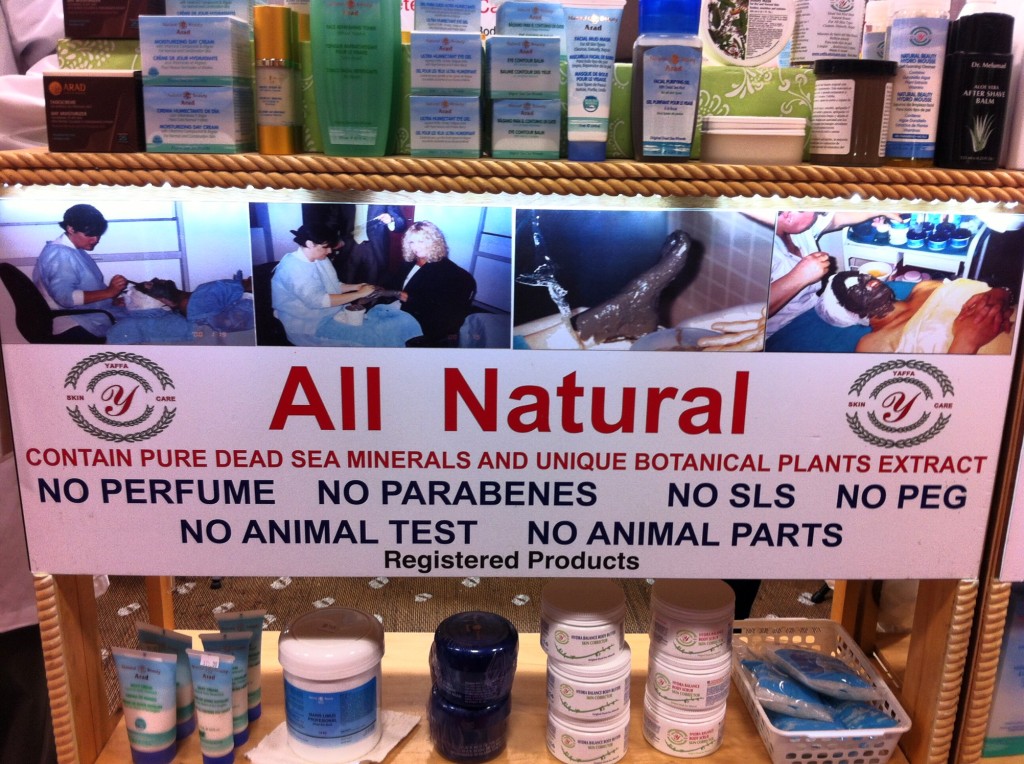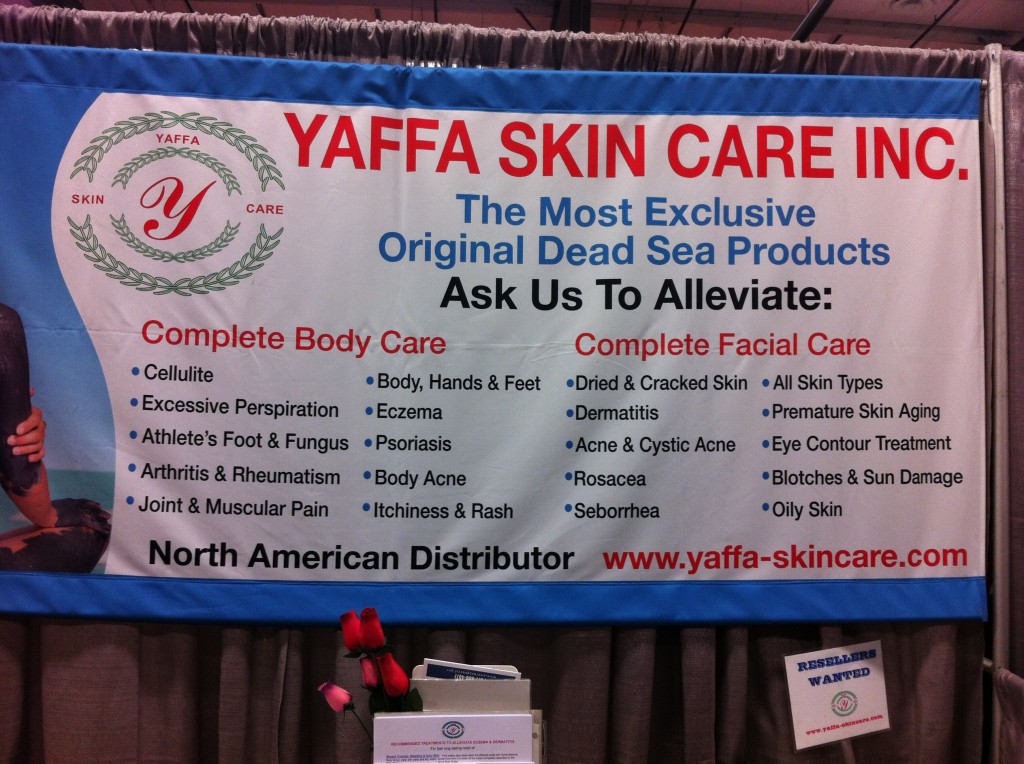 They were promoting Dead Sea mineral-based products providing relief to Eczema, psoriasis and Dermatitis. These are alternative pharmaceutical medicine to help calm itchiness, soothe irritations, restore lost moisture and provide rapid lasting relief.
The Yaffa Skin Care product line provides different package sets for either psoriasis or eczema. I believe all companies should separate the 2 medical issues, because there are different in terms of lipid ratios according to my earlier research and therefore should be treated a bit differently.
They claim that their product are natural and is manufactured in Israel where the Dead-Sea mineral originates. The Dead Sea has many visitors from around the world including scholars, medicinal representatives and people of various skin disorders to experiment and study this healing pool.
Testing Yaffa Hand Cream for Eczema
I didn't buy any sets but they gave me a sample of their hand cream Eczema version to try called "Natural Beauty Arad Silky Cream." I specifically asked for the hand cream from the set since I always had issues with dry skin on my hand, no matter the weather. Being that the event was indoors but hot & humid outdoors, it was the perfect setting to see how well this cream worked.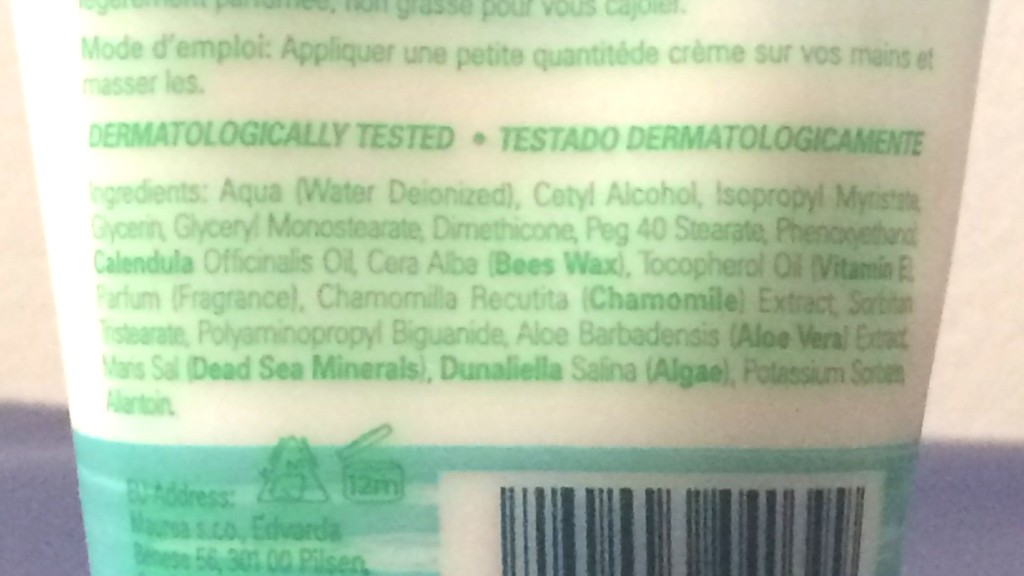 The interesting ingredients of this hand cream are Dead Sea minerals combined with algae. According to its directions, you will only need to apply a small quantity of it. The representative named Jila put about less than a dime-size of it on my hands and said "That's all you need!" She was pretty right on! I was amazed how quickly my skin absorbed it and it didn't appear greasy at all. It comes out as a nice thick creamy paste but it hardly feels like a thick cream as you rub it in the skin. It rather feels very light. That's how fast the cream gets absorbed!
I wasn't too crazy about the parfum (fragrance) in the ingredients list but it was only a slight noticeable smell which didn't aggravate my eczema. This is something I like to make further investigation as it can also be found in other organic products. However the benefits outweigh the costs. I couldn't find a single review on this, so I am interested to hear from anyone who may have tried it. I personally would buy this again.
My Verdict and comparing with other Hand Creams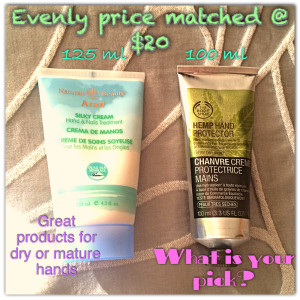 I have reviewed many hand creams for my Eczema such as Body Shop's Hemp Cream, Roc Dermatologic, Herbacin Kamille and Gold bond calming hand cream (my fav). These are all great hand creams that I recommend, but note that these aren't made for eczema. Also I have tried different varieties of shea butter creams on my hands including L'Occitane (well known company that sells natural products worldwide) and loved it, but the issues is that they are usually expensive for such little amounts.
Now comparing the sample hand cream that I tried from Yaffa to the other hand creams and shea butter, I have to say it's one of the best and most reasonably affordable hand creams by far! And I really recommend you at least trying it out.
NATURAL BEAUTY ARAD SILKY CREAM: Hand & Nails Treatment.
This hand cream product is part of the Alleviate Eczema & Dermatitis Hands kit that also includes an Epidermine Skin corrector (skin renewal treatment) and Hydra Balance Body Scrub.
I decided to only purchase only the hand cream, since I didn't really need the other stuff in the set. On the back of the hand cream it says:
Rich protective cream with Dead Sea minerals combined with algae (see weed) "Dunaliella" that helps stimulate the rehydration process of the skin and helps delay the appearance of aging.
The protective layer is created by beeswax and allantoin that also leaves your hands and cuticle silky smooth and supple.
Lightly fragranced
Non-greasy
I have been using the hand creams for over 3 weeks, and it's currently my goto hand cream as of now. I will report back here with a link here after 3 months.
The Other Skin Kit
Skin Corrector Complete Solution Kit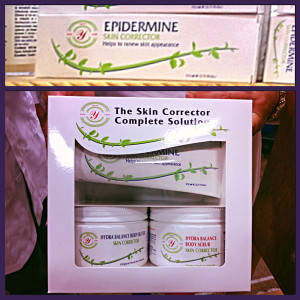 This package is geared towards repairing and improving your skin condition. The products in this kit contain no steroid, no antibiotics, no alcohol, and no perfume. This kit helps detoxify, hydrate and protect skin from environmental pollutants that irritates and can destroy our skin. In addition, it will soothe, soften, and reduce rough patches including redness and inflammation. The kit includes Epidermine Skin Corrector, Hydra Balance Body Scrub and Hydra Balance Body Butter.
Jila has noticed a little redness in my cheeks and forehead and decided to apply the Epidermine skin corrector in those areas. It is a natural medicine, antimicrobial, antiviral that enhances epithelisation of any damaged skin, heal wounds and repairs skin. This one is only used at times of acute and chronic skin inflammation. This can also alleviate Psoriasis, Rosacea and Seborrhea like skin conditions. They claim it also provide immediate relief to varicose veins, acne and leg ulcers. I did find it immediately reduced slightly the redness in my face. So I was surprise that it worked pretty well, I need to test it a bit more over a month period. According to Jila, once the skin clears, it is best to store the Epidermine skin corrector in the fridge and continue using daily creams or lotions.
I also tried the Hydra Balance Body Scrub which looks a bit milky with little grains of Dead Sea minerals and medicinal plants extract. It is enriched with vitamin E & Vitamin B-5 that helps eliminate dryness and effectively retain moisture in the skin. Surprisingly I have found this one to be very gentle and safe for my skin.
As for the Hydra Balance Body Butter, it wasn't too bad either. Jila says that it also acts as a bandage against environmental pollutants while moisturizing the skin. According to their website, it also helps firm skin and offer cool sensation. It may use Shea butter as a base which is also great benefit for our skin.
My preliminary assessment of the creams is very positive but like what I said before, I would need to further test the products in this kit to really gauge if I would use all the time. As for the Hand cream, I've been using for over 3 weeks and really recommend it.