Is Talc and Parabens in cosmetics really bad for eczema or those with highly sensitive skin?
What exactly do we look for in cosmetic products especially for our eczema-prone, dry and sensitive skin? These are questions that will often pop out in our heads as the media or any cosmetics advertisement often present a certain ingredient to be "bad" by indirectly saying "paraben-free" or "talc-free" without really explaining the benefit. This article will present a little bit of history behind these two ingredients along with my personal experience with certain cosmetics that worked on my skin as well for other eczema sufferers with extremely dry skin. Hopefully this will help you determine your own makeup routine.
TALC: A Benefit or a Cost?
There has been rumors from past studies that have shown the possible bad side effects of talc. On the other hand, recently it has been proven to be beneficial for those with normal skin. It has been highly debated on the safety of Talc but studies have shown that it:
Does not necessarily clog pores,
Does not cause lung cancer (if Talc is asbestos-free),
Does not cause ovarian cancer when applying non-deodorizing product such as baby powder (Talc alone) in genital areas (unless Talc was mixed with Silica & other ingredients linked to cancer) (FutureDerm The science of beauty, 2011)
Overall the assumption that Talc causes bad side effects are still inconclusive but proven to be "cosmetically beneficial to the skin, absorbing oil, preventing shine and providing lightweight base for further cosmetic applications". However, its drying effect (oil absorption ability) can be problematic for those with eczema-prone skin and those who suffer dry skin in general.
Most face powders contain talc that is likely dry out the skin and accentuate the unwanted flakiness in our skin. They are some face powders that don't contain talc like Physicians Formula brand for example. I haven't personally tried it yet to really discuss it, but I heard from a few people with eczema who have used it with no issue.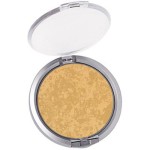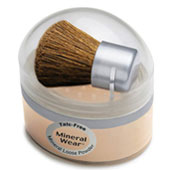 In other cases, from what I gathered from the discussions boards related to Talc & Eczema, some believe it could potentially irritate the eczema and that it's best to use talc-free makeup.
On the marketplace there is a liquid foundation produced by Physicians Formula called "Mineral Wear Talc-free Mineral liquid foundation" which is recommended for people with eczema-prone skin (Hoshi, 2009). Physicians formula (2013) claim it to be ultra-gentle, hypo-allergenic, fragrance-free, non-comedogenic and dermatologist approved. For you ladies who are struggling to find a suitable foundation base, this could be a good option.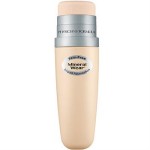 What is The Deal with Parabens?
Parabens was a buzz in cosmetics that has cause a bit of fear in most of us believing that parabens is bad for us (beautylovin.com, 2012). It is a type of preservative used to elongate the product's shelf-life. You may have seen couple of skin care products, cosmetic lines or even shampoos that have the word "paraben-free" that is clearly printed underneath the name of the brand. Parabens may commonly appear as methylparaben and propylparaben which some people may be very sensitive to.
For the majority with normal skin, it doesn't pose much as a threat as some of us who are prone to irritations, contact dermatitis and rosacea due to paraben allergies (beautylovin.com, 2012) . Parabens has been thought to cause cancer or a nasty skin reaction, but according to recent studies, it does not increase any health risks if used in practical concentrations in skin care products (FutureDerm The science of beauty; 2008)
Parabens facts:
Current findings does not support the fact that parabens found in skin care products will increase any health risks (cancer) if used in practical concentrations. (Under 0.3%)
Can potentially cause "allergic contact dermatitis reactions" but it's VERY rare because there is a very low rate of allergenicity to parabens
Commonly used favorably as a non irritating & non-toxic preservative (Mowad, C.M, 2000)
Typically in a commercial product, the paraben concentration is too low (usually less than 0.3%) to cause a positive reaction on normal skin and a false-negative patch-test reaction to paraben sensitive patients (Cashman & Warshaw, 2005). If parabens doses were higher, than it would be a bit more worrisome.
Personally, I had no problems with products containing parabens so far regardless of my eczema. Perhaps the dosage of parabens used in cosmetics is not nearly high enough to have a significant effect on me. What the study did point out is the rarity of having the allergies to it. Its the sensitivity levels that varies among individuals that is questionable, so if you are curious what your sensitivity level is, it may be best to do a self-test on your own skin to see the real effects (note: you may want to discuss how to do it properly with a doctor) or consult an allergist to perform a patch test. If you want to be more on a safe side (even though it is not highly recommended unless you have been tested to be highly sensitive to parabens), it is best to avoid paraben containing products as much as possible due to its wide use.
by
stevendepolo