Part of Bourjois Paris signature is mastering colors & to continue being a make-up innovator in its industry.  Well I would have to agree with that since it does an excellent job in covering most of the redness where most brands do not deliver.  They have been around since 1863!
To name a few other companies, I have tried Clinique's Redness solution which was ok but not great & Lise's Watier luminous Correcting Primer Vert which hardly covered the redness at all in the past.  These are usually super pricey that may not be worth it.
BOURJOIS PARIS 123 PERFECT FOUNDATION
Continuing from Part 1 where I reviewed Elizabeth Arden 8 hour Cream Skin Protectant, we now move on to Bourjois Paris 123 Perfect Foundation.   It is considered to be reasonably affordable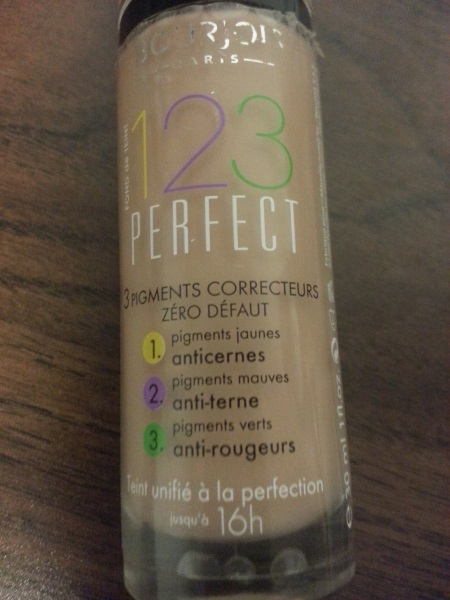 Not Organic and has Fragrance.  A bad thing?
First of all, this is not organic compared to my goto Lavera Natural Liquid foundation. Considering its affordable price & having strict conventional ingredients by the European Union Standards, it doesn't seem to worsen my eczema at all.
It is a bit strange since there is some fragrance (Parfum).  The question is:
Is it from essential oils or is it synthetic?
Lavera does have it as well but stated it is from essential oils. It does have some Titanium dioxide within the ingredients which acts as a natural sunblock but not as much compared to Lavera, since it is near the bottom of the ingredient list.
What I like about Perfect Foundation
What differentiates Bourjois 123 from most foundations out there is that it also acts as a second skin & light concealer that covers redness, black under-eyes circles and minor imperfections like blemishes.  It does an excellent job in making the skin pretty flawless.. no joke! It covers one of my pimples very well. No concealer stick may not be necessary.
It has 3 coloring correcting pigments such as Yellow (conceal dark circles), Mauve (corrects dullness), and Green (neutralizes redness) hence the name "123 PERFECT".  Again, it is a great option if none of us wants to spend too much money on separate pigments, which can be bought in many cosmetic lines to apply on the skin before foundation.
Final Verdict
Like most people suffering from Eczema, it is difficult to cover up rashes caused by Eczema and it becomes very dreadful when you need to be out in public.   I have to say that this foundation does a pretty good job at covering spots.  When applied to my face I did feel some moisture which is great but I still recommend using a serum or a balm underneath" foundation," for our moisture hungry eczema-prone skin especially during wintertime.
It claims to:
Provide 24 hour hydration
SPF 10
Contain cotton Flower for hydration & anti-shine
Well, I do like this one. It works best with its primer (in which I will discuss in the next paragraph). I most likely use it during emergencies or during important outings/events where I want to look picture perfect.  I can imagine this being good for weddings, graduations, New Year's or parties where we want to look our best.  I'm not sure if I can recommend this to everyone yet as it worked well for me… but I will suggest to give this a try! J
HAPPY LIGHT LUMINOUS SERUM PRIMER
This product acts as a serum and a primer in 1!, which helps supple the skin & illuminate complexion under any light. It saves you several steps from applying these separately (in most cases with other brands) and most of time they can be very costly when buying both individually.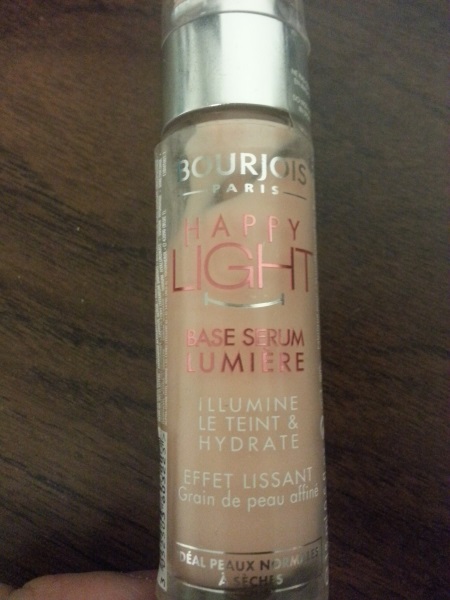 The Happy Light Serum is reasonably affordable so it can be an option for those who don't like to spend.  It does its job in acting as a highlight to top of cheeks, nose and eyes & a base primer for foundation to take its full effect in smoothing & covering minor imperfections.  It also is:
Non-comedogenic (Non-pore blocking allowing skin to breathe)
Non-greasy
Hydrating
Ingredient Issues
It does however have a slight pleasant smell that doesn't seem to bother me. I suspect it had some fragrance in it before looking in to the ingredients list.  It is something to look out for & perhaps there are better ingredients out there but it is quite a unique product that is worth noting.
Issues with Eczema?
I have been using Happy Light since November 2014, and have had no major issues with it.  Its foundation is 123 PERFECT in covering flare-ups when combined with the HAPPY serum.