Yaffa skin Care Eczema set was created by Dr. Melumad Laboratories.  The kit is catered to those who are in need of detoxifying, hydrating and protecting their skin from environmental pollutants that can irritate and destroy our skin. The key ingredient is Dead Sea salt.
Dead sea minerals have been popular for many years and many beauty consultants/store owners who sell them, would often tell you that it is beneficial for the skin especially for those with chronic skin disorders such as psoriasis, eczema or generally dermatitis.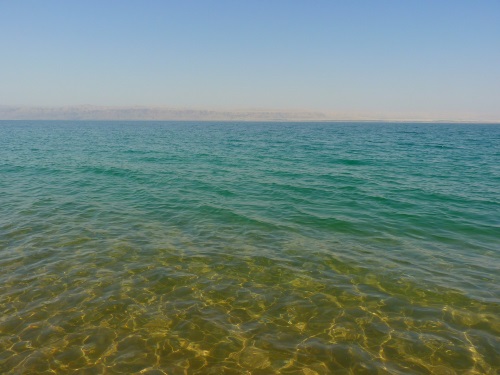 Nowadays Dead Sea Salts is used in many beauty & nail skin care lines because of its benefits which includes; removing cellulite, improve nail & skin conditions like psoriasis, eczema & dermatitis, fighting against aging, acne, and rosacea just to name a few.
I'm not too sure if some of these claims are true but from my own research and looking at scientific evidence shows there are benefits for psoriasis clients. It can effectively treat atopic dermatitis or eczema as well to a lesser extent.  I have tried Yaffa's Hand Cream(Dead Sea Minerals) with great results, so I was excited to try this package and to see its how well this Yaffa Package of Dead Sea Minerals work on my Eczema.
Yaffa Package: 3 Products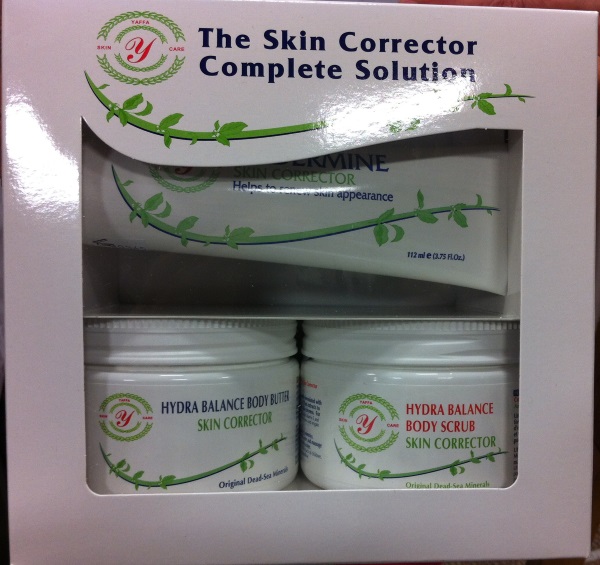 This package is made particular for Eczema sufferers like you and I, to help improve rough itchy scaly skin. There is no steroids or antibiotics. I have used all 3 products within this package and I have tested them for over a month.  I'll go through each product in order of use.  I also made a video (found at end of this article), on how to use these products as I have not found any clear instructions.
1. Body Scrub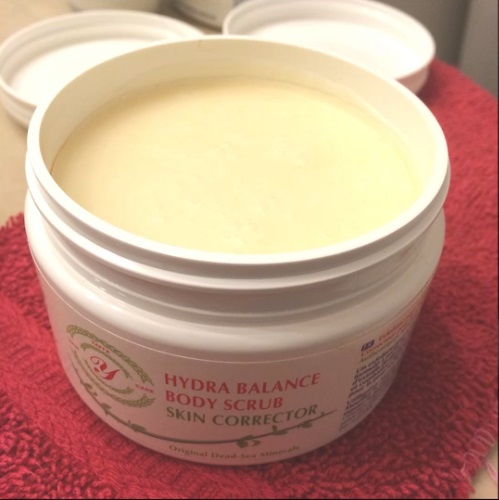 The body scrub in the package is called the "Hydra Balance body scrub Skin Corrector."  On the back of the package it says "an extra rich body scrub specifically formulated with Dead-Sea Minerals and Natural Plant Extracts to exfoliate, detoxify, and combat skin dryness".
It is enriched with Vitamin E and B-5 which helps eliminate skin dryness & irrigate your skin with natural humectants.  As you may recall from my Eczema top lotion video(youtube link), humectants are moisture-binding ingredients that helps keep the skin plump.
It is packed with a lot of natural ingredients including Castor seed oil, sweet almond oil, Aloe Vera leaf gel, Calendula flower extract and chamomile flower extract.
How does it feel?
You will notice that the Dead Sea salts are a bit bigger than regular cooking salt. When applied, I surprisingly found it to be pretty gentle for a scrub. Normally when you mix salt wit oil and use it as a body scrub, it is usually abrasive and it would sting on any wounds or scratches that you may have. I have used a different Dead Sea salt from another company, and their scrubs can sting sometimes.
How to use
One thing I would like to mention is to make sure to use it before going into the shower.  I initially used it the wrong way thinking that I should shower first, and then applying the product as you would normally do for your face while it's wet.
You have to scrub and massage the product for approximately 2 minutes.  Then you add a little splash of water and it will turn to a milky fluid. From there, you are suppose to massage the remaining of it into the skin for another 2 minutes. In total it takes about 4 minutes. I've been doing it for this amount of time and it's been fine. Other times I may have done way less than that and it was fine too.
Review/Results
Using the scrub for over a month, I feel that this is safe for my skin. I really do love this scrub as it really relieved my itching during the process of massaging the scrub into my skin.
You really have to make sure to use enough of the product otherwise it may feel too rough because of the grainy Dead Sea salts. I found that any drops of water mixed with the product will dissolve the salts as it starts to turn into a milky fluid.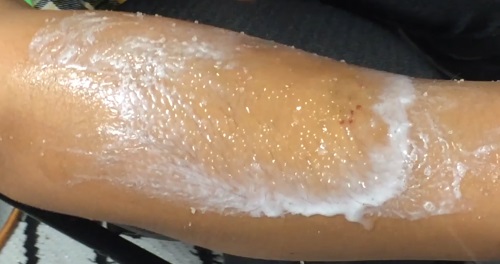 At that point it no longer feels like a scrub, but rather like massaging oil. If this happens you'll have to keep adding more of the product it to get the scrubby effect. The downside is that the scrub runs out much quicker.  After 5-6 weeks of use, I almost finished using it. Again use the scrub before adding water to fully exfoliate. If you use it the right way… it an can last for a longtime.
2. Epidermine Skin Corrector

Epidermine Skin Corrector is catered for those who want to renew their skin. It says that it alleviates irritated skin, skin redness, skin discomfort, softens & hydrates skin, harmonizes & balances skin appearance.
It is a natural medicine, antimicrobial, antiviral that enhances epithelisation of any damaged skin, heal wounds and repairs skin.
In the ingredient list, this is the only product out of the 3 that does not mention Dead Sea minerals.  It does contained 3 combined ingredients of Pansy, Marigold, and Knotweed.  From their studies, these ingredients have shown a positive effect against eczema.
How does it feel? My first try:
Jila, the Yaffa Skin care consultant noticed a little redness in my cheeks and forehead and decided to apply the Epidermine skin corrector in those areas. This product is only used at times of acute and chronic skin inflammation. I did find an immediate reduction of redness on my face. I did feel a little cooling effect.
From my own testing, it has reduced the itching and improved the appearance of my forehead, where it was many times red and swollen especially during stressful times.  Believe it or not, my forehead is one of my most sensitive parts and I have to be careful that my bangs of my hair does not touch it.
How to Use?
Trying this out for the first time I would highly suggest testing on a smaller area once a day and see if your skin can handle it. If it does work well, make sure to not use it more than twice in a day!  The reason for this is that it creates a tough shield which helps protect against the environment as it heals the skin.  This shield can harden the applied area making it feel rough on your skin.  For me I felt discomfort when applied too much, especially my checks and neck. Overtime the skin will soften depending how severe your eczema is.
Review/Results
Like I mentioned earlier, my forehead did very well with this corrector, but my other sensitive areas like my cheeks and my neck can't handle the application of this corrector for more than once a day. I did try it twice a day for those two sensitive areas and I notice my skin felt really dry and quite possibly caused me to itch more. So I stopped using it until I had a mini flare up on my cheeks/neck area.  This is when I gave it another chance by using it only once a day, and haven't had an issue since.
If you start to feel real uncomfortable I would suggest stop using it and trying again later to see if it is beneficial for you.
Despite the issues, I'm real happy that I hardly scratch my forehead anymore.. OR actually almost never, as it was one of my most sensitive areas that I had major issues with. I'm still testing this corrector on other body parts and I will report back with updated results.
Tips
It is best to store the Epidermine skin corrector in the fridge and continue using daily creams or lotions.
The directions in using this is a bit confusing as I was told by the consultant and from my own test is to use this once or twice a day, whereas on the tube itself says " apply gently to skin as often as needed allowing to penetrate."
3. HYDRA BALANCE BODY BUTTER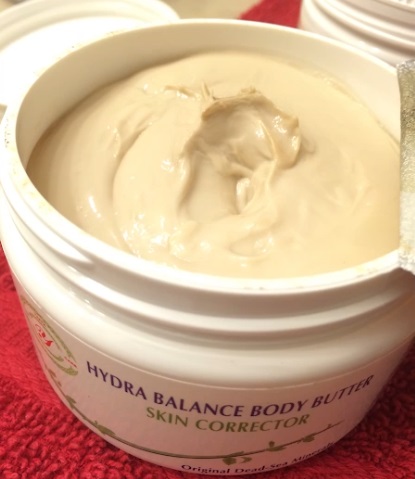 You can use this Body Butter product as many times as you like. It has an extremely rich texture that helps to hydrate and protect your skin.  It also works like a bandage by physically protecting your eczema prone areas from the environmental pollutants.  This product is seems to be based on shea butter just by looking at the ingredients.  The ingredient list includes the likes of avocado, Rapeseed, jojoba oil along with the Dead Sea salts.
How does it feel?
It looks very thick but it feels so light on the skin that you can easily distribute it evenly on the skin which is great because you really don't need a lot. It smells very subtle like a mixture of flower and medicine.  Not to confuse all of you as it doesn't have any fragrance, they're all basically natural as it has chamomile and calendula flowery extracts.
Review/Results and How much to Use?
Overall I really love the feel of this and you don't need very much of it when applied as compared to other body butters I've tried.  I've used this twice a day on my whole body and it's almost finish within a month period.
If I was using this once/day, it could last for two months. When I used other body butters in the past, they would roughly last for about 2 weeks and I felt a lot of money down the drain, hence why I started making my own body butter during that time.  I do recommend you to try this Yaffa version, especially if you are looking for a luxurious moisturizer. Make sure to check out my video review below, for a more detail look of this product.