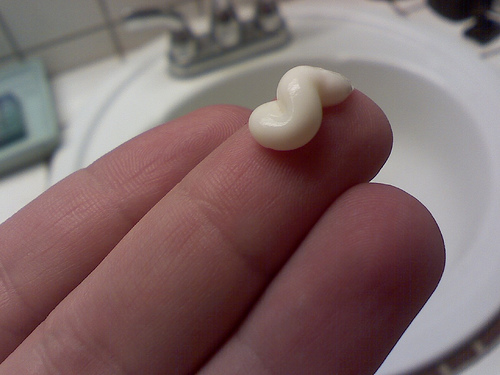 by eGuide Travel
Finding the best hand cream for Eczema sufferers can be quite a challenge and sometimes frustrating. Why is it some body lotions don't moisturize well on the hands compared to the rest of the body?
Our skins have a layer called the epidermis which is the top most layer of the skin. The epidermis is thickest on our palms and the bottom of our feet which act as a shield for protection against outside elements.
What makes the epidermis thick in those areas is that within the epidermis lies two special layers called the "Stratum corneum" and "Stratum lucidem". As shown in the diagram below.

Stratum Corneum is filled with keratin cells that contain protein and considered "dead" skin.
Stratum Lucidem (below stratum corneum) is a thin flat clear layer containing kertainocytes that produces keratins which is responsible for creating skin thickness.
Understanding the anatomy of our hands helps us understand that we need a heavier or more powerful hand moisturizer to penetrate these layers, since regular body lotions won't do the job for our hands. This is what I understand so far from my research and anatomy classes that I have been taking this semester.
5 of the "Best Eczema Hand Cream": My Reviews
**Note: I am all for organic, however I haven't found one that was cost effective because of their higher price point. Also since there are so many individual and private organic companies out there and each having their own brand, I have yet to explore them in depth. That will be in another separate article (in the future) and a link will be placed here.
Perhaps many of you are familiar with the famous best-selling product by Body Shop, the Hemp Hand cream (available in 100 ml tubes and smaller size at 50 ml ). Hemp is known for its high concentration of fatty acids (Omegas-3s) promoting skin health and acting as a powerful moisturizer. It also contains beeswax which serves as a great moisture barrier.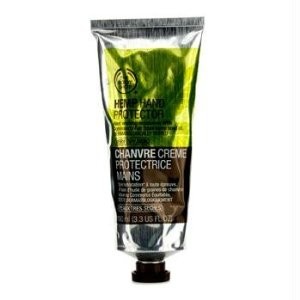 –>Click Here to See Pricing and Reviews on Amazon<–
Many people of many skin types recommend this as the "best hand cream" especially for dry mature skin. This was the first hand cream that gave positive results for my hands until couple years later down the road when my skin started to return to its original driest state after regular use. As we get older, our skin tends to get drier, thinner, lose elasticity and the production of natural oils (responsible for moisture) is decreased. I think it was a great cream in the beginning but unfortunately it lost its effect for me, but try it out and as always ask your dermatologist if you are not sure.
Here are some points for this hand cream:
Claim to be dermatologically tested against very dry skin
Slight nearly unnoticeable fragrance, I assumed it was hemp smell.
NO parabens and no irritations on my skin. Although I am still concern with some of unknown ingredients in it. (might need more investigation)
Herbacin Kamille is commonly offered in a small cute tin (75 ml) or can be found in small squeezable tube. You often will hear from people dealing with generally very dry skin (both eczema & non-eczema users) that it's a great product! I haven't bothered touching this one until my local dermatologist recommended it to me when I asked what is the best hand cream in the city.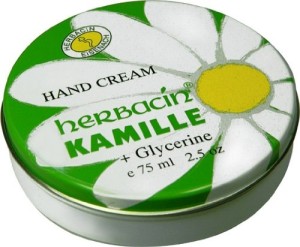 –>Click Here to See Pricing and Reviews on Amazon<–
Here are some points for this hand cream:
Highly contains glycerin which is great for moisturization.
The cream appears to be thick due to the glycerin which can be a great barrier from moisture loss or against environmental stress (wind, sun, cold air). I recently discovered that glycerin works well at attracting humidity in the air contributing to moisture in the skin. For those who live in a warmer climate, you will have a greater positive effect with glycerin. Winters may be the worst time since the air is cold and dry. However it is still beneficial as a skin barrier.
It feels nice at first but I find my hands doesn't stay moisturized after several minutes. It may have something to do with my skin type and living in a colder climate. As an South East Asian descendant, my skin has greater adaptation to hot humid weather rather to the cold where I'm currently living. In theory, winter is bad for my skin tone, since I am not genetically adapted to the drier wintry weather. Theoretically, a skin of an european descendant may be able to take on colder weather. Who knows? I don't think there are enough evidence to support this fully yet but we know that every individual is different from another.
Looking further in the ingredients list, it does contain 3 types of parabens and bit of fragrance. This brings up a hot topic on the debate of parabens and recalling my recent research through medical and beauty reviews, parabens may not be as bad as we think unless you are real sensitive to it. It is used very little to have a negative effect. This is something I would like to investigate deeper with research and talking further with my dermatologist. (I will update this when furthered research)
I am not a fan of the fragrance. There is an unscented version of it but it is more of a lighter moisturizer and its termed as Herbacin Kamille "Soft". Any creams that say "soft" after its name should give you a clue that its not the right type of moisturizer to look into regardless if its unscented.
Overall this product may work for some of you, unfortunately it didn't meet my expectation.
Roc Dermatologic is more on the pricier side (available in 50 ml squeezable tube) but I manage to find a special Xmas pack back in December. One of the sale consultant in department store said it's the best hand cream she has ever used, of course that is her job to sell but because of the deal, I gave it a shot.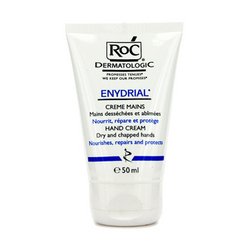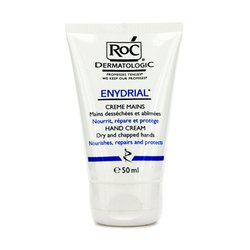 ->Click Here to See Pricing and Reviews on Amazon<-
Apparently this ROC product is recommend for people who constantly in need to wash and use their hands in a workplace such as nurses, dishwashers and doctors etc. Similarly to the Herbacin hand cream, it contains a lot of glycerin. On a bit of cautious side to some of you, it does contain 2 types of parabens. Although it doesn't seem to bother me when I tried it.
On the plus side it does contain no fragrance and I feel a real surge of moisture penetrating through nearly all my layers of my skin. It felt like my skin was sucking it up like a sponge and feeling supple afterwards. I truly love this one! I wished it was offered in a bigger bottle but it will be very expensive so it would be a put off for some. I can see it having great potential in moisturizing dry mature skin.
There are many types of moisturizer by Gold Bond Ultimate ranging from "Soothing Chamomile", "Restorative CoQ10" (known to fight aging), "Moisturizing Aloe Vera" and the list goes on. One of our fans recommended the "Intensive Healing Lotion" by Gold Bond, however I did not found it in my area. I did find the "Soothing Chamomile" and bought it. It's the only one that is "fragrance free" and "oil free." Supposedly the cream is recommended for people who have issues with skin's sensitivity and irritation.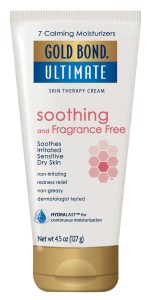 ->Click Here to See Pricing and Reviews on Amazon<-
I must say I was real impressed with this one, no irritations on my skin and the cream was nicely textured, thick, and I experience great skin absorption. For the price it just recently became one of my favorites. It claims to help with relieving redness and help soothe irritated dry skin, and I mostly agree with it. It is offered in a tube of 127g (big enough to apply to hands, elbows, arms, feet & knees).
It does contains a lot of ingredients compared to any lotions or creams that I've ever seen . Less is usually better, so I will be investigating further with this one.
I noticed that the "Intensive Healing Lotion" version contains ceramides, where the soothing chamomile version does not, which can be a great benefit for eczema sufferers. Currently there is a commercial promoting an Eczema Gold Bond version but I haven't found it yet in my area, so I may have to order it online. I will have to try both the "Eczema Gold Bond" and "Intensive Healing Lotion" to do a comparison.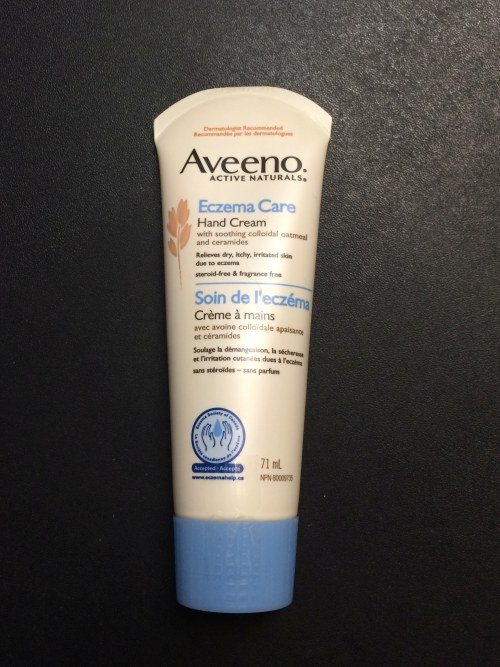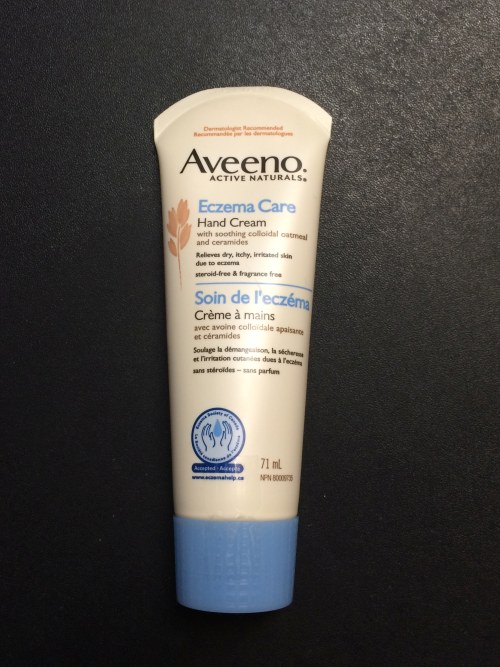 ->Click Here to See Pricing and Reviews on Amazon<-
Honestly, this is probably the most affordable and very effective hand cream. So Aveeno Eczema Care Hand Cream claims its rightful place to be one of my top lists for hand creams AND meet the requirements of having the right amount of ceramides. It may be very economical since you don't need a lot of it. Your hands may still feel moisturized even after a wash .
Please navigate to my in depth article of this Aveeno Hand Cream.