Uremol 20 caught my eyes many years ago in the pharmacy aisle. I regret never giving it a try, believing it wasn't good enough to fight my dry itchy skin especially with many creams on the market. Other reasons was that the cream was not catered to Eczema but more less to dry itchy skin and I was an undergrad student back then and didn't have a lot of money. Now that a big part of my site is reviewing creams and lotions, I decided to give Uremol 20 a shot and see if it is viable for use on my Eczema skin.
The package I purchased was pretty small (100g), enough to fit in my bag/purse. It cost around 15-20 dollars. The label mentions that it is, "clinically shown to quickly relieve itchy, extra dry skin." On the back it is labelled fragrance-free, non-greasy and fast absorbing. This cream could be use anywhere on the skin since it does not state as being a hand cream. Funny, I thought it was a hand cream at first considering it was only a 100g.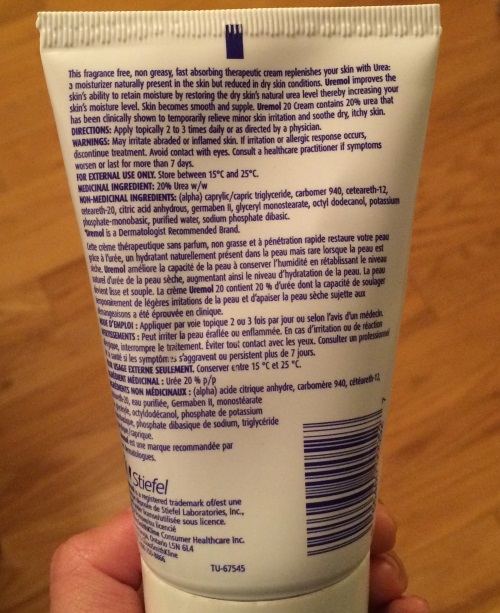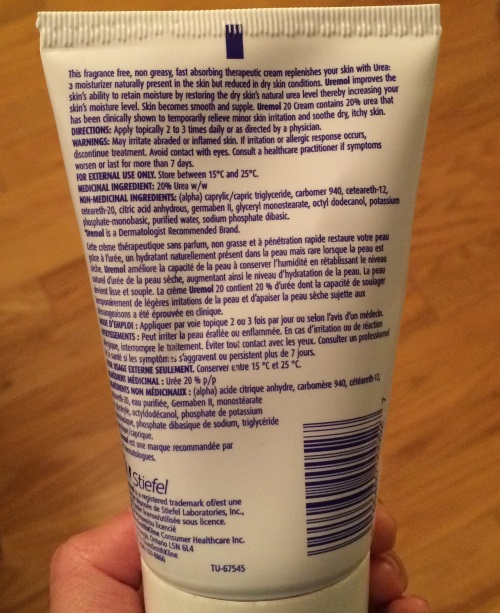 The Benefits of Urea
What is interesting in this particular item was the fact it has Urea. This cream ingredient "Urea," is just as important as "glycerin" (commonly found in a lot of moisturizers) where both have similar positive effects by providing powerful humectants in attracting moisture (water). This process provides a moisturizing boost to your skin. Urea can also act as a super light exfoliant to help rid of dead skin.
Urea is naturally found in the skin and this cream is supposed to help restore its level for optimal moisturization. Usually you will see two options from Uremol, Uremol 10 and Uremol 20.
Which is the Difference between Uremol 10 and 20 ?
Uremol 20 is most catered to those with severely dry skin and is labeled with "Intense Relief Moisturizing Cream" where as the Uremol 10 is labeled wit the saying "Skin Relief Moisturizing Cream." Uremol says that both versions, "has been clinically shown to relive minor irritation and soothe dry, itchy skin." The 10 version is cheaper so I assumed it could be directed towards someone with normal skin. On both versions it provides a little warning "may irritate abraded or inflamed skin. If irritation or allergic response occurs, discontinue use."
>>Click Here to See Pricing, Ratings and Reviews on Amazon.com>>
My Verdict
I remember writing elsewhere how commonly 10% urea is used in moisturizers for better texture consistency because too much of it can get too greasy and messy. I have been using it very often with hardly any problems. The texture of Uremol 20 with 20% urea is nice, thick, non-greasy which almost appears to be the perfect dose for my skin during winter-time. This cream does serve its purpose in restoring most of my dry scaly Eczema hands, specifically some part of knuckles and thumb areas.
It is a good buy if you do not want to spend a lot of money on hand creams considering it is common for a lot of hand moisturizers to go as high as $20 for the same amount. You can get it at a cheaper price.
I've used it on my hands only thinking it was a hand cream mostly due to its size. However, depending on the severity of your eczema condition, if this does not do a sufficient job in moisturizing your skin, then you might want to consider the other options I've recommended that offers more skin satisfaction.
Sometimes you may feel a little stinging or tingling but it's very slight and feels like nothing. It isn't the best creams I have tried but it is definitely in my top choices for moisturizers, so I do recommend you trying the Uremol 20.