Why did I decide to try this one out?
A couple months ago I received a free sample of Earth Science Multi-Therapy Ceramide Healthy Skin Lotion courtesy of Earth Science. Earth science is located in Santa Barbara and has been making natural body care products for over 30 years.
I decided to test & review this lotion because this particular product has Ceramides. If you don't know exactly what Ceramides is, I wrote about it in detail of the huge role that it plays on our eczema-prone skin. As recalled, ceramides are natural fats/lipids that are found in our skin cells which plays a critical role in fortifying the skin barrier to prevent moisture loss. You can find more information on Ceramide here.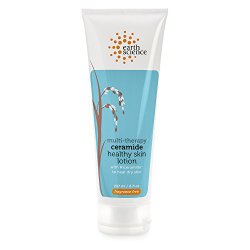 Places to Purchase:
Iherb (Canada)
I tested this cream for over a month, and I'm actually impressed. Continue reading to find out why!
MY REVIEW
The Ingredients and my concerns
I was a bit concern when I first looked at the ingredient list seeing that *Hydrolyzed Soy Protein was listed. I was diagnosed to be allergic to "Soy protein" many years ago, and I try my best to avoid products with soy as best as I can. Many of you know that a majority of food & skin care products have Soy in it. The key is knowing how much soy is in the product to cause an allergic reaction. Usually the word "soy" by its own is not much of concern compared to "soy protein" as I was told by an allergist.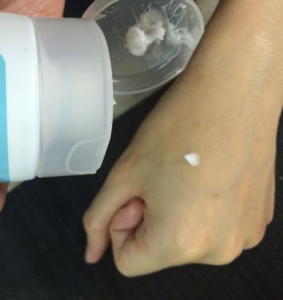 So I decided to do a little patch test on my hand for at least 24 hours. Surprisingly there was no allergic reaction, so I questioned whether I grew out of this allergy or perhaps it's not the most dominant ingredient in the list to have a significant effect.
If any of you have any concern on any ingredients, I suggest doing a "small patch test". You can do this by applying a small amount of lotion/cream on the most sensitive skin areas such as the pulse area of your wrist & inside of the elbows. More info on testing -> (3 tips on testing Lotions & Creams)
In fact, hydrolyzed Soy Protein is near the bottom of the ingredient list, which may suggest that there is not much of a dose compared to Aqua (water) and Safflower seed oil.
Other Interesting Ingredients
It is a paraben-free, fragrance-free and a vegan product which specializes in Riceramide (exclusive mixture of natural rice ceramides, lecithin, hemp oil and essential fatty acids). Riceramide is a glycophospholipids that help restore skin to its optimum state according to Earth Science's statement at the back of the product.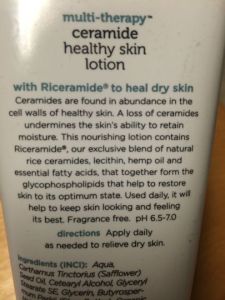 Glycerin (important humectant in holding water molecules from air to surface of skin) and Shea butter (emollient that helps replace depleted lipid barriers) is also near the top of the list. In my earlier articles, I almost cannot emphasize what a good moisturizer is without noting the importance of glycerin.
This product contains so many other interesting ingredients ranging from aloe leaf juice, sea lettuce extract to rose hip oil which all benefits the skin. With all these great ingredients combined with Ceramide and Glycerin, makes it an ultimate lotion.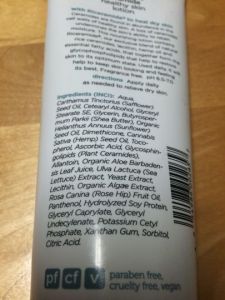 Regardless of reading all the goodness of the ingredients, what is important next, is how it feels on your skin and if it has any positive effects!
One Week Test Thoughts
After trying it daily for 7-10 days and without using any other lotions, I felt it did a good job at moisturizing my skin. Comparing to my goto Curel Anti-Itch lotion, I felt Earth Science Lotion to be lighter/runnier but it absorbed better into my skin.
I never thought a lotion that is so light and a bit runny (like how most lotions are) can do a great job in keeping my skin moisturized. Perhaps it must be the added effects of the ceramides. I even had a co-worker with psoriasis who tried it and thought it felt really nice on her skin.
On the plus side, it did a better job on keeping my hands moisturized (one of the toughest body parts to keep moisturized especially during the winter) compared to my usual lotion.
One Month Test Thoughts
As the weeks had gradually accumulated to a month, I still felt the same positive effect as my first week. No complaints. The only negative is that it is smaller than most lotions at about half the size. So I barely had any left. I do like the size as it is small enough for me to carry around work, school or any outings if I ever needed some added moisture.
Conclusion and do I recommend this Lotion??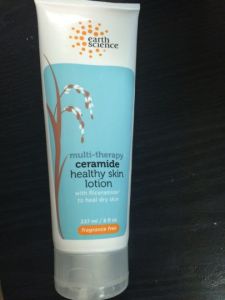 As you may have the sense in how I feel about this product, I would definitely recommend the Earth Science Multi-therapy Ceramide Healthy Skin Lotion if you can afford it. It may not be as cost-effective as any usual lotions out there due to price because of its organic ingredients. Since it's smaller than most lotions (8 fl. Oz.), I still find it to be worth it or at least a try.
If we look on the bright side, it does come at a price of $10(usd), which is lower than other organic skin lotions on the market. In my opinion it is slightly better than my usual Curel lotion, so it comes down to your preference in terms of cost. Since I can get Curel at a larger quantity at the same price as Earth Science, is a tough one for me since I use lotions every day. So it all depends on your budget. *Note: You can also purchase Earth Science's lotion at a 16 fl. Oz (<-amazon link) size for 6 dollars more.
Please let me know your thoughts & feelings on this article in the comment section or you can Email me as well. Keep battling Eczema!!, and thank you to Earth Sciences for letting me try your product.