If you have eczema, a little sun exposure on the skin is beneficial for a limited time. But I also like to add, "don't forget to put on your sunscreen!"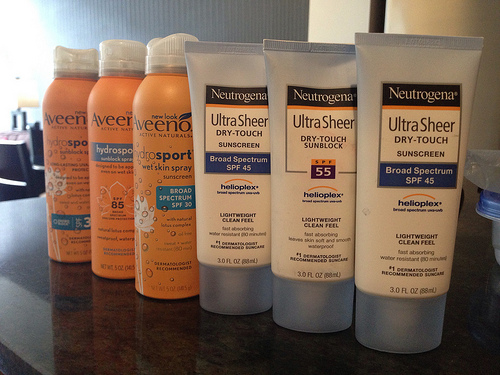 by jeffwilcox
Recently I've been volunteering as a physical health promoter and ambassador where I worked closely with the local Cancer Research team booth. I learnt a few interesting myths and facts on Sunscreen as well as skin cancer from my discussion with them. According to their research, myths include:
Myth 1
"No need to wear sunscreen on cloudy days" – Over 90% of the UV rays can penetrate through light clouds, so it is recommended to wear sunscreen regardless if it's cloudy. A tip is to look at the UV index, as the recommendation is to wear sunscreen for a UV index of higher than 2.
If your skin burns easily in the summer, I recommend wearing sunscreen or covering up even if UV index is 1 or 2. Be aware as well that between 11am to 4pm, is the peak time where UV rays are at its strongest.
Myth & Fact (Big debate)
"Chemicals in sunscreens are not good for our body and can be more harmful to the skin than sun/UV damage since our skin is absorbing it" – According to their research if the chemicals were able to penetrate through all the skin layers, the low dose used in sunscreens will not be toxic to the underlying cells.
Other researchers believe otherwise, and warn about one ingredient called Retinyl Palmitate(anti aging), which is found in a third of sunscreens, can actually cause cancer itself.
In my experience, some of these chemicals do cause irritation and stinging on severe eczema-affected areas especially if applied on my face (More details below)! So I prefer, if possible, to go all parabens free, non-scented, retinyl palmitate free, and any mention of having certified organic ingredients.
What are some effects of Sunscreen on eczema?
In the past, many traditional or non-organic sunscreens that I've used have caused my skin to react but mostly on my facial area. Many times my face would turn extremely red and made my skin around my eyes irritated after application.
It is usually common for those with sensitive skin to have a sensitive spot. For me it's the face, where others would be the hands, neck, feet or forearm. Being sensitive to sunscreen on the face is a big issue, as the face is easily exposed to the sun-rays.
Sunscreen Brands that I have tried
One Sunscreen brand that had a positive effect on me is an expensive but popular brand called "Vichy Capital Soleil Sun Protection Cream (amazon link)" (for face and body in 1). It's labeled hypoallergenic, paraben-free, and fragrance-free.
I liked this sunscreen and had no issues with Vichy when applied on my arms, neck and legs, but the issue again is that it cause some irritation when applied on my face.
Vichy is a reputable brand and dermatologically tested, so it's recommended. But I was still searching for a sunscreen that didn't give me issues for my face.
Other Sun Screen you can try on a budget
Some cheaper brands you can try are Neutrogena Ultra Sheer Body Mist Sunscreen (with Helioplex – amazon link) and Coppertone(amazon link). Both brands didn't cause any negative reaction when applied on my body. So I didn't mind these two as long as they were the fragrance free, hypoallergenic, and sensitive skin versions.
The Neutrogena was marked as the "#1 Dermatologist recommended Suncare" and "weightless-clean feel." I actually like the feel of Neutorgena on my skin. Yet again both sunscreen did cause some irritation when applied on my face.
Sunscreen that works on my Face. Finally!
This brand of sunscreen is called Alba Botanica's FACIAL sunscreen lotion(amazon link)! No issues when applied to my facial area! Alba is considered to be an organic vegan brand and it comes in either the fragrance or no fragrance options. I certainly loved how it was affordable and made specifically for the face (not super expensive like some drug store brands).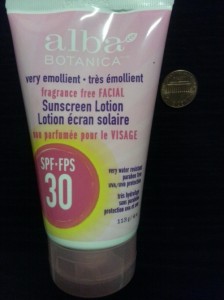 Here are some benefits of organic sunscreens (including some that I learn from a representative in Cancer Research):
No chemical barriers. It acts more as a physical barrier, therefore it wipes out more easily than traditional ones. You will have to keep reapplying more often for that reason.
Natural ingredients such as Titanium Oxide and Zinc Oxide are usually used as an efficient natural UV filters. – Again, no chemicals therefore no skin irritation.
No RED FACE of course! – I didn't experience any stinging, so no burning sensation. You will not look like a tomato head.
I still find this brand to be a bit pasty but that's alright as long as my face isn't burning.
Another brand of Sunscreen that gave me somewhat a positive reaction when applied to my face is La-Roche Posay Anthelios Non-Cosmedogenic Daily Sunscreen(amazon link), which is safe for the face and body.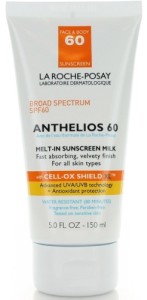 La Roche is a bit pricier but it definitely did not cause me any irritations for anywhere on my body. La-Roche, when applied is pretty light and not as pasty compared to most sunscreens. It is highly reputable just like Vichy, and you will usually find these two side-by-side.
There is one more sunscreen that many colleagues have recommended and it's the facial mineral sunscreen by Aveeno. The problem for is that it has soy as part of their ingredient which is unfortunate as I am allergic to it.
In Conclusion
So in conclusion, I use 2 different sunscreens, one for my body (La-Roche Posay or any cheaper brand that is parabens free, non-scented, Retinyl Palmitate free) and one specially for my face (Alba).
Here are some other tips:
Make sure to choose sunscreen that is labeled broad spectrum (UVA & UVB) protection.
Wear at least a SPF of 30 or higher if you will be outside for most of the day, although many debate that a SPF of 50 may be harmful. So wear in between as a precaution.
Understand it is important for us Eczema Sufferers, to get some limited sunlight as it is beneficial in improving skin immunity(read my article from link above), you just have to find that sunscreen that works for you as I have found mine.
Don't forget to apply your best moisturizer lotion before putting on sunscreen.
An interesting fact is that your skin will age even if you receive little to no sun either, so a little moderation of skin exposure to the sun is the key! Oh but don't forget the sunscreen of course….
Play my video version below.