Nivea is commonly known as a facial moisturizer in its original blue tin/container. Currently the brand has branched out into Nivea Soft, Aqua effect, pure & natural, rich moisturizing daycare with SPF or night care. Just to keep it simple, I can only recommend the original because I found the ones I've tried do not have the same effect. Also, there are so many versions that I just don't find the need to try something different yet, especially when the original works for me.
Check Ingredients on any Skin Product
I find when there are so many product lines, it causes more confusion and at times frustrations. It is important to look at the ingredients first and then to see if the price is worth it. If you are unsure of the ingredients, ask your dermatologist. He or she will tell you whether it's safe for the skin right off the bat. If you are an eczema sufferer like me, you know how difficult it is to find the right moisturizer. You are taking chances in spending time and money on different creams that has a possibility of not working for you.
As I know, I have spent lots of money on many cream products. I find that most beauty products that promote or claim intensive/powerful moisturizer targeted at eczema sufferers often do not work. However, I am still open and more likely to try out other skin products based on good reviews from other eczema sufferers because our skin is the REAL TEST!
My Review – OVERALL
The thickness of the cream provides 2 main benefits:
A good barrier against environmental stress like wind & sun (these 2 factors are likely to cause skin dryness)
Great capacity at retaining the moisture in our skin.
The main ingredient that helps with these 2 positive factors is called "Lanolin".
Other Positives
It also provides a good boost of moisture without the feeling of skin tightness. It plumps the skin as skin dryness can lead to more wrinkles and sometimes discomfort.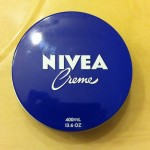 What are the benefits for an eczema sufferer?
Nivea helps retain moisture which makes the skin appear younger, vibrant and smoother. It's my #1 thing I always carry with me.
Stores may sell a little container of it (like a travel pack) that I use to carry in my purse. Of all the products I've tried (from real affordable to real expensive brands) I have not found any of them on par with Nivea so far. What I like most about it is the affordability and the fact that it does its job.
Do you use it in conjunction with other creams?
Not necessarily, I may use Avène Trixéra emollient balm when my face gets itchy. It is more on a pricier side but I find it helps a lot in controlling the intensity of it for me. In addition, it is also paraben-free and fragrance-free which is great as it can be of great concern in terms of skin care. Avène thermal spring water is one of the key ingredients that helps soothe the skin. This is often found in drugstores in cosmetic shelf along with Vichy or La Roche-Posay. The beauty consultants will often let you try a sample before buying which is nice. It also provides great moisture (better than their emollient creams & lotions), but I haven't used it that much lately, perhaps only during time of stress.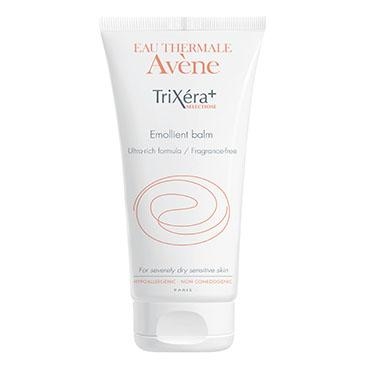 Click IMAGE to see price on Amazon
Do you use at night?
Yes. At night I may add a bit of natural serum or avocado oil after using a natural facial scrub as this helps reduce flakiness and increase the skin's ability to absorb moisture. The serum and avocado oil will also give a boost of moisture to the skin. I then apply the Nivea cream. The major benefit of using it a night is to help take advantage of the bodies ability to repair skin as its best time is during the sleep hours.
How often do you put it on per day? Is it more in winter ?
2-3 times a day, and sometimes a bit more during winter time due to its dry air.