Having Eczema visible on the face is one of the toughest part of Eczema as it's the most visible part of the body along with the hands. Why is it sometimes so difficult to control the eczema on the face compared to other parts of the body?
For one thing, our face is constantly exposed to ailments of eczema since it's not covered and is exposed to the environment like allergens such as dust, pollutants or pollen. Second, our face is also the part where we are constantly touching where we could transfer germs, bacteria or anything our hands touch that can potentially cause skin irritations.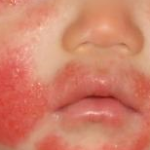 How to hide the redness(Eczema on Face)?
Reduce the heat!! – I usually feel heated up unexpectedly before I feel the itch coming, so if it persists, I apply slightly cold water to reduce the heat & inflammation followed by my homemade toner (the apple cider vinegar toner I posted earlier). Most of the time I will apply Avene Trixera emollient balm to further calm the skin. It's usually best to combine these together, although it may work with other moisturizers as well.: You may re-apply the foundation if you are going out to the public. You'll come out looking fresh & flawless.

Avene Trixera (Amazon)

Find the right shade for your skin (no lighter than your skin tone) – I apply my favorite
foundation Lavera: natural liquid foundation, and apply more on red areas to reduce its brightness as it just looks like more of a natural blush. So no blush is needed! There may be some makeup products that can hide more of the redness specifically, but I try to avoid putting so much stuff on my face especially if its filled with chemicals. I wouldn't go with a shade lighter than my own skin simply because the foundation won't be able to blend & improve the overall skin tone However it may work for dark circles under eye but we want to try to get rid of the redness. It should match your skin to give a flawless look.

Last resort – use if necessary – If it's severely flaky or irritated, apply your cream prescribed by your dermatologist sparingly. This will speed up the healing & reduce scaliness. It's even faster when you use the homemade toner to reduce the itching whereas the prescribed creams often fail at it and reactivates the itch rash cycle. I usually try to avoid this as much as possible.
Question from a reader:
Is there any Seasonal issue people may have? – Winter versus Summer issues?
Yes spring can be bad, where an increase in pollen floating in the air can cause skin allergies especially on the face. And during winter, our skin gets extremely dry due to dry cold air where it may actually worsen the condition but does vary among individuals. During fall, it is possible some people may be allergic to molds hidden in the leaves. For me, my skin seems to adapt better in the summer time, since we are more willing to be active and go out in the sun(light dose) not only to improve our mood but fill in our deficiency of vitamin D in our skin (where we hardly receive any during winter time). Along with more humidity in the air, the moisture of it is less likely to dry out our skin (Unless we are in a desert area with extremely dry hot air, which may not be good for some of us).