A few years ago, there was huge hype surrounding Lush stores and their products. This attracted me to walk in their store several times.  Lush is a store that sells a lot of all natural products that are packaged-free & preservative free.  Their "Dream cream" line are aimed at eczema, psoriasis or troubled skin and they were all big hits.
I wanted to investigate this line further more (make sure to read my 1st part of my Lush review). Most of their products is made from essentials oils rather than perfume, which is less likely to cause any irritations.  Also a majority of their products is only natural to a certain percentage.
1. AQUA MARINA Cleanser:  a cooling, refreshing cleansing seaweed roll for dry itchy skin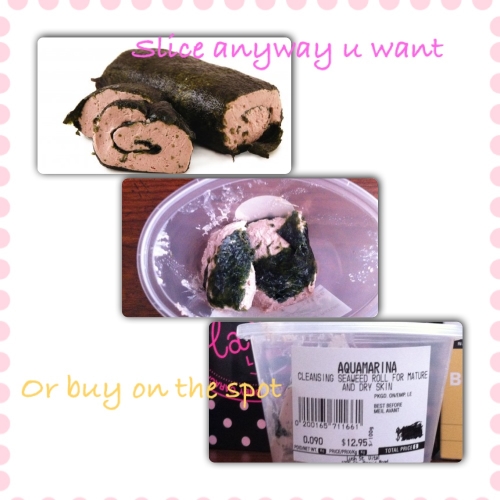 I find this to be an excellent cleanser for eczema – for prone or irritated skin. This is a real unique cleanser that comes in a calming calamine & aloe vera mixed and roll wrapped in nori seaweed just like a sushi!  Its role is to reduce redness & inflammation as well as providing moisture to dry mature skin. Seaweed is known to provide many types of vitamins & nutrients to the skin.
Updated Package 2016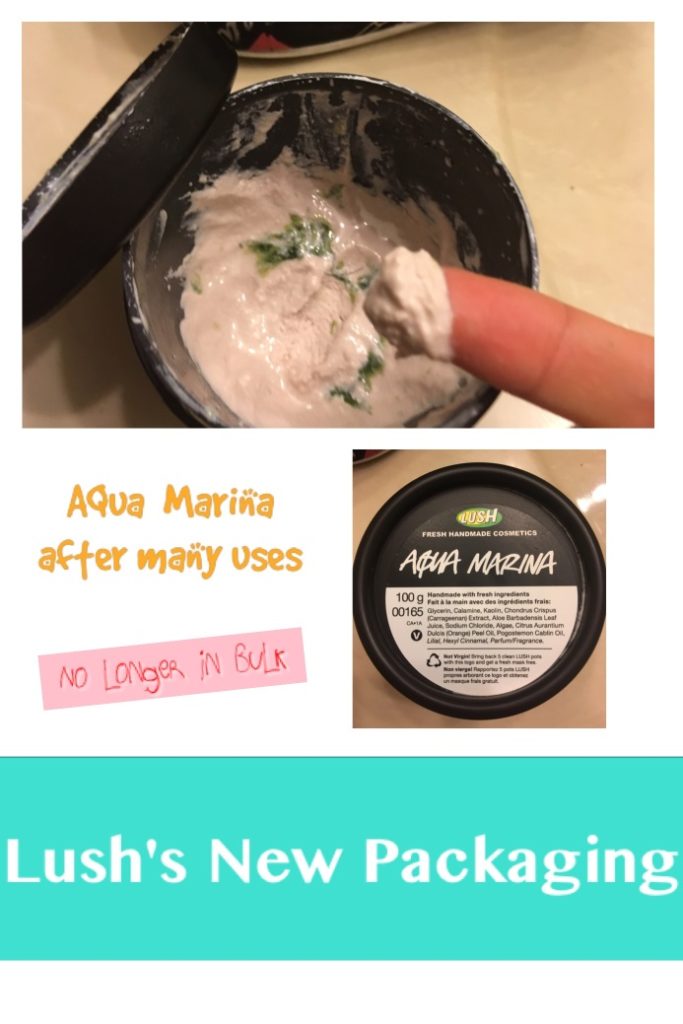 Patchouli oil is also used in this mix and I've read how this oil is beneficial to eczema.  I still need to do further research on it though.  I know that Patchouli oil helps fight stress/depression and helps dermatitis by speeding up tissue regeneration while preventing scarring formation & promotes cooling to inflamed areas.
This cleanser comes in bulk and you can purchase by size or at any price.  The beauty consultants will chop off a piece for you at any desired amount. You can also purchase a pre-packaged size in a container.
This turns out to be my personal favorite cleanser and I would recommend for anyone to try it out.  There were only a couple of reviews I found from other people with eczema who gave it positive reviews.  They found it soothing and provided relief.  There hasn't been any negative comments so far.  For me from 2 months of using it, I haven't found any issues so far.  Ingredients appear to be fairly safe in my opinion.
2. Scrub: a gentle effective way in smoothing out the flakiness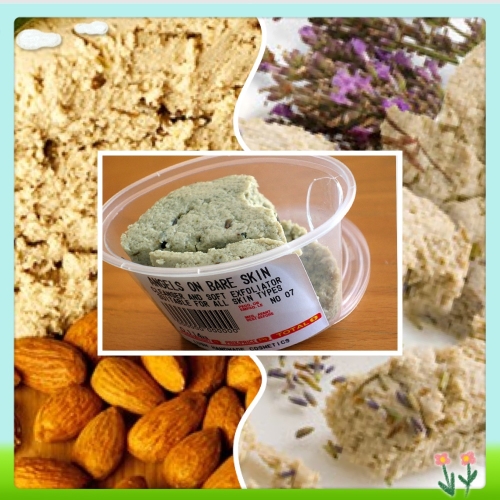 As part of the my skincare routine, I do use a natural cleanser + skin scrub from Lush called "Angels on bare skin".  It is their most popular cleanser.  Although I rather consider this one more as a scrub than a cleanser.  You can also buy it at any amount you like.
I believe "the angels on bare skin" is exceptionally all natural. However, this scrub does contain ground almonds that can cause irritations if you have allergies to it.
I find it to be even more gentle than any homemade sugar facial scrub that is usually mixed with an oil. It is gentle on the skin and can be used daily. When scrubbing, it gently removes flaky dead skin (especially those dry patches that often accompanies with eczema) while it gently cleanses simultaneously resulting in soft smooth skin.
The Rose & Lavender oil is used to soothe & balance out combination skin as well. Lush claims it is suitable for all skin types and this scrub is agreeable with my sensitive skin, so I have no complaints at all. I would continue to use it, mostly for the scrubbing purpose. It has non-drying ingredients which is a plus for me.
3. Full of Grace serum: a real moisture boost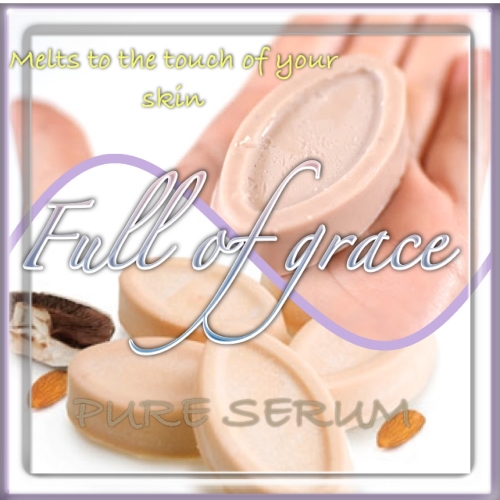 The serum "Full of grace," is  a preservative-free bar that suppose to be soothing and very hydrating.  It has given me good results and has worked for me. Those with eczema who tried it, gave it good reviews. For me, I had no problem with it after using it for couple years, but an older friend of mine (in her 40s-50s) who had eczema her whole life, experienced a bit of irritation in her skin. Perhaps it was an allergic reaction to an ingredient that she was unaware of. So just to be safe, its best to test on your skin first.
Unlike other serums, this one is in a bar form (or Lush may call it in its pure form).  It melts as soon as it touches your skin. I really like the simplicity of it & it provided a moisture boost as it's suppose to. It truly does maintain the elasticity and gives a glow to the skin as it claims.  The vitamins & antioxidants are extracted by portobello mushrooms . As some of you may know, any brown mushroom including portobello mushrooms provides vitamin D that most of us have a deficiency in, so it may partially help the eczema theoretically in my opinion.
In addition, I find this serum to be fairly cheaper than buying any other brands offered in liquid form in a fancier bottle. These other types of serums are sold at the prices from two to three folds. However, it can run out pretty quickly if used twice daily. This was one of first lush products I've tried on my face that really replenish & nearly brought my real skin back after having dry & cracking skin for years.  As it provides enough moisture to the skin, it also can reduce the itching I often felt.  I remember my dermatologist saying that "Moisture is the key to healing" . Therefore, I ended up scratching less. Does it provide full of grace to the skin? To me it has so far, along with a few others.