Lush is a well known store commonly found in malls all around the world.  It's that type of store that you can easily catch a strong mixture of different scents as you walk by.  Lush is mostly known to be against animal testing & provide products that are freshly hand made and mostly organic products such as soaps, lotions, creams, shampoos, etc.
One of their best selling products that led me into the store was their famous "Dream " line, meant for eczema or those with irritated troubled skin. It includes the Dream wash & Dream Cream, that is suppose to help soothe troubled skin.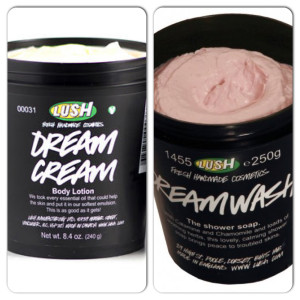 Before I move on to the pros. There were a couple things that I personally observed that is worth noting:
First of all, I don't understand why it's named the "dream cream" when it is described as a "lotion" in their description.  It is a bit runny like a lotion which is more accurate. There is a difference in terms of water (or aqua), oil & base (shea/cocoa butter)  ratio.  In addition, a lotion and a cream provide different thickness & levels of moisture in the skin. A "DREAM LOTION" probably wouldn't sound as catchy though and it doesn't rhyme.

Second, Lush described to help suffering bodies, sore skin, irritated blotched skin & reduce redness with the help of oats to calm skin & calming essentials oils such as rose & lavender oils for irritated skin. It sounds great at first but its description is a bit vague, don't you think? It could be used for acne or many other types of skin condition maybe?… which makes it difficult for a product alone to be a cure-all.

Thirdly, it may appear real pricey for 240g, fairly smaller than a  regular bottle of lotion.  It is partially organic after all, and most organic stuff will be real pricey. But is it worth it? To some it might if it works well for you. I personally use a lot of moisturizer since I am very active & enjoy taking my showers twice/day sometimes to wash off the sweat & dirt just like any regular person. At 240g, it doesn't really go a long way no matter how good it is especially if you have a total body problem, rather than a little patch.

If I may add a fourth component, the sales person which happens to be a young girl still had the eczema patch inside her elbows.  Perhaps it provide just a relief for her not simply a cure.
What I did find to be very useful with the Dream Cream few years back, is how it seemed to healed and helped calm one of my most persistent patches of scaly, irritated, red spots that constantly weep for over a year when nothing else worked that time. I find it works best for wet eczema(which is considered to be the worst stage of all) . However for other stages of atopic dermatitis below or less severe than wet eczema, it doesn't seem to have the same effect.  I am unsure whether if it made some spots worse or nothing at all, because I was in the most severe condition for eczema. I agree with some users that it nearly provided the same level of moisture as most brands at a fraction of a price. If any of you have read my past experiences with many brands, most of them on the market don't satisfy my skin's thirst for moisture. Therefore, I didn't find the Dream cream very moisturizing at all, especially a product meant for eczema and dry irritated skin.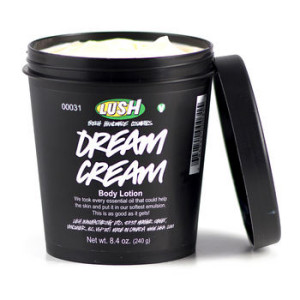 For some eczema sufferers, they found it soothing and would continue to buy this product. One liked the fact that it does not leave oil stains in bed-sheets. But others found it bit oily (as it ifs laying on top of skin which suggest it may not penetrate through our thick scaly skin). For me, I just didn't feel the quick absorption once applied, so it might suggest that it may take time to sink in, or if I needed to reapply more or perhaps it is not moisturizing enough. A good moisturizer should plump your skin (not give you the tight feeling).
BOTTOM LINE:  Unfortunately it wasn't much of dream cream for me, but to some it has provided a miracle.
The "Dream" line is one of Lush's top ratings, so if you decide to try it out… ask for a sample . They will give it to you with no problem. Plus it will save you money & give you time to decide whether it's worth it or not.  I actually bought the package which wasn't the smartest idea. Keep in mind that it does contain parabens.  To those who are very paraben-sensitive, this may not be the best product.  As from my earlier article on parabens, there is a very low percentage of us who are sensitive to parabens which can result in an re-occurrence of atopic dermatitis at time of contact.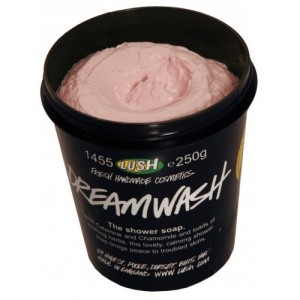 DreamWash Thoughts (Short review)
As for the DreamWash, one of their shower smoothies, I honestly have to say it didn't give me the same satisfaction for my eczema similarly to its complement (Dream Cream).  I did not find it soothing as many others have claimed. To me, it sufficiently washed my skin like any other soap and I loved the creamy feel of it. But I think my skin must have been too tough for it to have any healing effect.  Again, there are many mixed reviews that are worth looking into.
There were other lush products that I found to be very effective & worthy for my skin, but that will be in another article.