I was watching a documentary recently on the alarming increase of mosquitos in my local area.  The fear of the West Nile disease has been significant since the first arrival of the most dangerous types of mosquitoes arriving from the Mediterranean a couple years back.  Even back then, the potential dangers of this little group of mosquitoes is death, as there has been a couple cases of death often in the elderly.
Human scent is made up of many natural chemicals in our body.   What is interesting is that some of our scent will either attract Mosquitos or simply drive them away.
Recent Study on Natural Repellent
James Logan, who calls himself a chemically ecologist is studying the effects of a certain chemical in a human odor (scent) in attracting mosquitos. His is goal is to block the mosquitos receptors so they won't be able to smell us.  The design is focused on a natural repellent.
Bug Repellent for Sensitive Skin
A few weeks ago I went on  a canoe trip and was searching for bug repellent.  I came across a natural bug repellent made for sensitive skin (including eczema).  The repellent has powerful plant extracts that help protect against certain bugs. It smells much nicer and feels lighter than any traditional bug repellent.
What is dangerous in most traditional repellent is that it's full of chemicals like DEET, a chemical known to potentially enter human bloodstream by up to 15% (Jirsa, 2013). Paglaro (2013) claim that DEET can inhibit the functionally of the Central Nervous system,  where most commercial bug sprays contain 10-40% DEET.
Neem Oil in Natural Bug Repellent
The natural bug repellent contains neem oil which is commonly known to treat eczema and psoriasis.  Unfortunately on a recent trip to the market, it is no longer sold in that particular store, so that's when I decided to make my own. There was another type that is soy-based but unfortunately I was allergic to soy.
History of Neem oil effects
Neem oil is a traditional native herb in India that can be used as an effective insect repellent where it has pesticide & germicide properties (Jirsa, 2013). Neem oil itself has antiseptic properties along with richness of fatty acids, glycerides that is an excellent natural skin moisturizing base.  Neem oil can be used against mosquitoes, flea and tick repellents.
Neem oil mixed with other Ingredients
In a study, Neem oil mixed with coconut oil can significantly protect against various species of mosquitoes more so than Neem outdoor sprays alone (Discoverneem.com, N.D).  It also works well against anopheles species, a type of mosquitoes containing Malaria (Studies have shown 96-100% protection against anopheles).  The oils of the coconut have a small beneficial effect on Eczema, which I have.
Carrier Oil is needed for Completion of Repellent
Essential oils are usually either mixed with carrier oil (coconut, jojoba, olive oil, vinegar), witch hazel or distilled water.  Vinegar like apple cider vinegar or white vinegar, may sting our eczema prone skin, so I stick to the oils and witch hazel which are gentler ingredients.  Understand that oils and water do not mix well. Oils will degrade in water, so you must use it immediately and shake it for every use if you decide to mix with distilled water.
A good rule of thumb is 10-25 drops of essential oil(s) for each 2 tablespoons of carrier oil/distilled water/witch hazel/vinegar.  It can be all shaken in a spray bottle OR mixed and stored in a well-sealed little container.             
MY MIX METHODS
I decide to make two versions.  Mix 1 is an attempt to replicate the study of Neem/coconut oil mix, and the second mix is Neem oil with witch hazel that is commonly used to make homemade bug sprays.
Note* The Neem oil I used in both methods is a blend mixture combined with citrus essential oils.  This Neem blend is used to treat eczema, psoriasis, rashes, burns and acne.  It also helps to tone down the smell of the Neem oil.
Mix 1: Mixing Witch Hazel (essential oils) with Neem Oil(carrier oil)
Based on instructions(click to enlarge)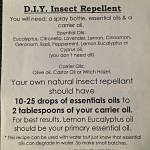 You may need a funnel to pour any carrier oils, distilled water, vinegar and/or alcohol perfectly into a spray bottle.  However, alcohol might be too drying for our skin, so I would not recommend it! It is much easier to blend any essential oils with alcohol, vinegar or witch hazel than distilled water.
In this mix, I used a non-alcoholic "witch hazel" version that is pre-mixed with distilled water which is great for insects' bites and light sunburns. You can mostly find this in health food stores. Then you can proceed to pour in 10-25 drops of Neem blend oil for each 2 tablespoons of the base you choose.  Shake it before use.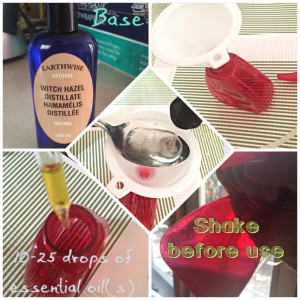 Note: I put about 8 tablespoons to make a bit of a bigger batch, so then I put in about 100 drops max into this mix.
Mix 2: Mixing essential oils with solid coconut oil
The coconut oil is usually pretty solid at room temperature, so it is difficult to mix anything with it.  You must use the double boiler method by boiling water in a pot so then a bowl can be placed on top of the pot.  Then you can toss in at least 2 tbsps. of the solid coconut oil and watch it melt. It will take about 10 seconds. While it is warm, you may drop 10-25 neem blend oil for each 2 tablespoons of coconut oil. I decided to stick with a small batch so I stick with 2 tablespoons of it.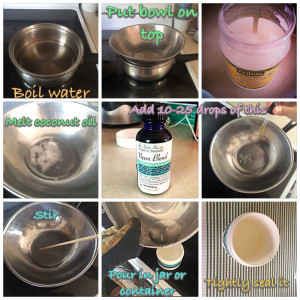 I decided to go with 25 drops to see its full potential.  Stir all the ingredients and pour it into any tight container.
Note: The coconut/neem oil mix stays in its liquid form whereas my Extra Virgin Coconut oil return to its solid form in room temperature.  Adding the essential oil may help with the liquid consistency.
Testing
I went canoeing in an area with lots of mosquitos and applied the coconut/neem oil mix on my face, neck, bit of upper chest and feet. I applied the spray version on my exposed legs.  Since it was a bit colder, I wore a light long sleeve sweater so the rest of upper body was not applied.
Results
According to David Suzuki, during Mosquito season, avoid going out between dusk and dawn during their feeding time.   I happened to be canoeing at dusk along the shoreline, and there were tonnes of mosquitos buzzing, so it was a perfect time to test it out.
After an hour of canoeing, I hardly had any bites where I had applied the neem/coconut mix (2nd mix)! I had a more bites on my bare legs where I had applied my 1st mixed (Hazel/Witch Hazel), so it wasn't as effective as the neem/coconut mix.
Half hour in, the mosquitoes gotten so bad I was force to apply a commercial DEET bug repellent on my legs, which made it a bit better. It was my last resort because I had very little coconut/neem oil mix and I already shared it with another friend.
In Conclusion
In conclusion, even though it was suggested to use pure Neem oil, the blend version did very well in my second mix (coconut/neem oil mix).  I will be continuing using this mix.  Next time I will have test the real effectiveness with 100% pure Neem oil and see if there is any difference.  The only issue with pure Neem oil is that it naturally doesn't smell as pleasant but is proven to be real effective.
I was very disappointed with the results of the 1st mix (witch hazel and neem oil mix), instead it work well as an after bite and eczema-relief treatment.
Note that since this a natural repellent, it doesn't last as long as DEET so you will have to use it quite frequently (Discoverneem.com, N.D.). Regardless of the great results, it is also recommended to wear long sleeves, pants or have a type of mosquito netting and burning oils such as neem or citronella in a lamp or candle. You can easily find citronella candles anywhere and they are more effective than those traditional coiled mosquito traps.
Finding your own Mixture and other Essentials oils
There are plenty of other essential oils besides neem oil that can be used to make your own homemade bug repellent including Citronella, Eucalytus Oil, Catnip, Basil, Lavender and peppermint.  All is needed is choosing just 1 essential oil or a combination of these oils.  Each ingredient will provide a different smell and effectiveness against certain insects, so it's best to experiment to find a combination that you like.  It is suggested that most of the ingredients are just as effective as DEET.
It was suggested to use lemon eucalyptus or eucalyptus as a main essential oil in the mix with carrier oils, distilled water or vinegar.  I have read many success stories from reading other blogs with this mix, so I will have to give it a try next time.
Some mixes I sampled used lemon eucalyptus and lavender (smells like life saver lemon flavoured candy… yum!) whereas another sample I tried is citronella and possibly geranium (a rose like smell excellent for ticks). The second mix smells less of a chemical smell of a commercial bug spray.  So you got plenty of choices that you can make according to your liking. You may use one or combination of oils.
Keep in mind that each oil is effective against certain insects, so choose wisely and plan which insects mostly habituate in the area you are destined to go. Usually a combination of oils is more effective against various bugs. Wooded areas are most likely to be infested with ticks and mosquitos so eucalyptus is a good choice to mix with. You may also add geranium which is excellent for ticks.
References:
Jirsa, A. (June 10, 2013) The Best All-Natural Insect Repellents for Summer. Retrieved from http://www.mindbodygreen.com/0-9874/the-best-all-natural-insect-repellents-for-summer.html
DiscoverNeem.com (2014) Neem Natural Mosquito Repellent. Retrieved from http://www.discoverneem.com/natural-mosquito-repellent.html
Paglaro, T. (2013) Green Camping Essentials. In David Suzuki Foundation. Retrieved from http://www.davidsuzuki.org/blogs/queen-of-green/2013/05/green-camping-essentials/