What foundation do I personally use??
Lavera trend make-up Organic Natural Liquid foundation has no parabens & talc! I believe it deserves some recognition and I still use it today. It is my personal favorite and it is considered as an organic foundation made for sensitive skin. The fact that it is organic is a plus for me because it allows our skin to breathe.
The organic oils in Lavera's liquid foundation help condition the skin along with vitamin A, C & E that fights free radicals (Lavera: natural cosmetics, 2013). In other words, it also provides some SPF protection (natural sun protection) that can prevent the skin from aging. I have to say that I end up loving this product! No caking & no skin irritations. Another new interesting fact is that it is also gluten-free!
Regardless of all the benefits, I would still advise you to look out for ingredients that you may be allergic. For example, there are some lines that may use soy as part of their ingredients which does provide benefits to the skin, but my skin will flare up due to having allergies to it.
If you are concern with talc, then I would suggest to go for a face/translucent powder or a liquid foundation that is talc-free. I'm also considering buying into a new translucent powder after reading the pros & cons of talc. I bought mine a long time ago unaware of its potentials.
BOTTOM LINE:
If you are looking for one of the best foundations or tinted moisturizers for your skin, you may want to consider an organic one. There are other organic makeup brands out there. I've seen most of them in health food stores or even some drugstores, so you have many options. As for other types of foundations, it can be easily found anywhere from retail, grocery stores to drugstores.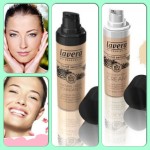 Keep an eye of these keyword(s) such as:
talc-free
paraben-free (if you are highly allergic to it, avoid it ; personally I have no problems)
hypo-allergenic
non-comedogenic (best to avoid if you are prone to blemishes)
dermatologist approved
if organic-certified (the better)
avoid ingredients (that you are allergic to)
Couple companies that are currently in the trend in removing talc & parabens:
Physicians formula's Mineral Wear Talc-free Mineral liquid foundation and some mineral makeup line

Body shop's "Extra Virgin Minerals"

Currently Bodyshop is selling a mineral makeup line that is talc free whereas some are fragrance-free, and paraben-free called "Extra Virgin Minerals" which could be of interest.

Miessence's organic make up foundation & some face powders

Lavera trend make-up Organic Natural Liquid Foundation and tinted moisturizers