Precision Fabrics Group(PFG) was kind enough to let me try their new highly engineered bed sheet linens (sent to me FREE by PFG).  PFG is a company that specializes in creating advanced high tech fabrics for many different industries such as healthcare, the military and aerospace.   They are a research group consisting of engineers and scientists.  The DermaTherapy sheets (FDA-Cleared) that they sent me were designed for people with skin conditions such as Eczema.
Just look at the benefits below.

I tested the product over a 6-7 week period and I have to say that I am very impressed. Please read on to find out why.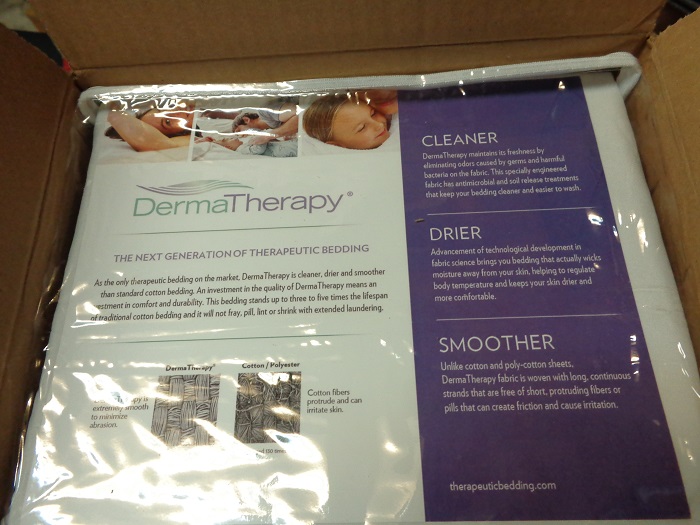 What I received in the package
The package was a Full size bed set that included – bed sheets(flat and fitted) and 2 pillow cases. *Note – it also comes in Twin, Twin xl, Queen and King.
The materials used in the linen sheets are of a poly/nylon blend (continuous filament fibers) that provide a silky, smooth and cool feeling sensation on the skin.
This will greatly reduce any itchy feeling and discomfort during sleep.  Furthermore, the material contains anti-microbial treatment.  This special property helps reduce allergic reaction and repel bacteria.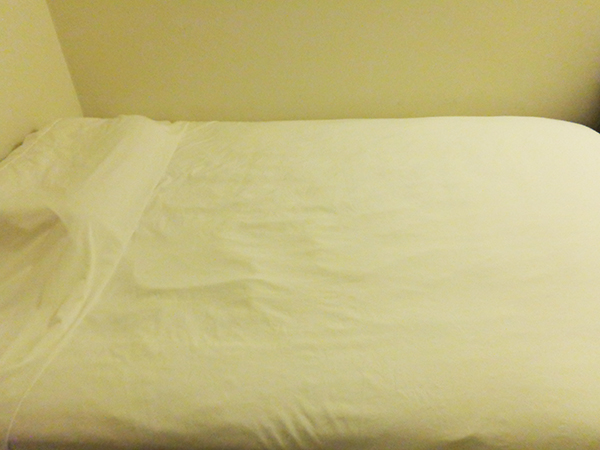 Instructions
It is a good idea to wash all sheets before you use and wash them separately to avoid any lint contamination from other materials such as other clothing.  What surprised me is how fast all the sheets dried after the wash.

The Big Test
The first time I slipped into the sheets, I felt a much different feeling on my skin than my usual cotton sheets. It felt cooler and slippery (definitely silk feeling).  To be honest, it almost felt a bit uncomfortable at first, probably because the weather was still cold outside. Regardless, I was able to sleep amazingly well the first night considering I was not sleeping well the past few weeks from working long shifts at work.
The Big Question Is – Did I Ever Wake up and Scratch during my sleep under these Sheets?
Nope – Had no scratching and hardly any itching during my 6-7 week test.  The sheet has the ability to keep the body temperature at a steady cool state preventing excess heat, which can produce sweat that often aggravates our eczema.
Here is my breakdown for the weeks
1st week – I hardly itch.
2nd week – The same result as in week 1.
3-4th week – Still consistent.
5-7th week  –  Very Happy Overall.
There was a few times where I slept under a different sheet only because I fell asleep on the couch and during a weekend vacation.  Using the other sheets, I felt itchier more than ever.  It is probably due to being so used to the comfort of the Derma-Therapy sheets.  This is a problem I always had in the past when sleeping in a different environment and under a different sheet material.  A solution would be to purchase another set of DermaTherapy sheets especially when travelling. This leads to an issue, the cost?
Cost
The cost of the sheets is pricier than your average bed sheet, but this is understandable because the product is specialized (heavily researched) and the material used is of a high-tech grade.   It is totally worth it as I have slept well every night under this material with no complaints.

As an Eczema sufferer I highly recommend it and I believe it is worth it.  Having a good night sleep is one of the keys in maintaining your Eczema and you can read more on this in my article here.
Three Reasons why it Benefits Eczema
1. To reiterate my last point on sleep, current studies are showing that sleeping under a certain temperature (specifically at a lower temperature) can optimize the quality of sleep.  These sheets will keep you cool especially during those summers.

2. It is important to note that relaxation is part of the key in reducing stress that can also cause itching. That is the second thing that I believe this linen targets. Relaxation! It just feels good on the skin.

3.  I don't get that itchy sensation throughout the night. I automatically feel relaxed once I jump in to bed.

My verdict
I do recommend this product for anyone who has issues sleeping at night especially if you are suffering from a skin condition or if you have a tendency to sweat a lot.  Yes, there are many factors that could be causing your restless sleep, but the chances of having a good night's sleep are so much greater when using Derma-Therapy bed sheets.
It is similar to wearing dri-fit clothes during a sweaty workout where it keeps you cool and keeps the sweat off of you.  Wearing cotton would be the last thing to wear in that condition because sweat and moisture would be trapped.
It will take a bit of time to get used to the coolness of the sheets at first, BUT you will much appreciate the benefits because your skin and state of mind is in a relaxed state.  The best part is I can sleep without worrying.  No more waking up in the middle of the night because of feeling hot and itchy.
I would like to say thanks to Precision Fabrics Group for letting me try the sheets and also the hand-written card that they sent me.  Also right now you can get a 15% discount using the code "BATTLE15" by clicking the image link below.