SkinFix product has been around for a while and their motto is that they have been trusted for many generations. In my opinion it is still fairly new to many of us. I was interested in trying their "repair balm product" since it was at a discount price.
I had many questions such as "Is this so-called high end product work?", "What have other people said about it?" and most importantly "Is it worth it?" I assume it could be high-end since it is between $15-20 range considering its size and its nice packaging.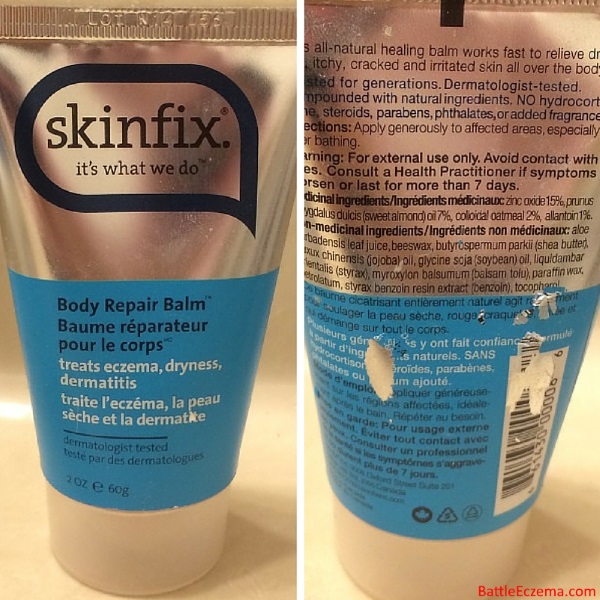 ->Click Here to See Pricing and Reviews on Amazon<-
Typically these are sold in two sizes, a regular size of 120g and hand size of 60g. I was lucky enough to catch the hand size in the sales bin and thinking well it couldn't hurt to try it especially at a fraction of its original price.
2 Versions of Skin-Fix:
The Original (as seen in the cover pic)
Nut-free & soy-free version
The nut-free & soy-free version "Gentle Eczema Balm" is actually labeled "baby" on the side, so it is made for babies or those of us who have super sensitive skin.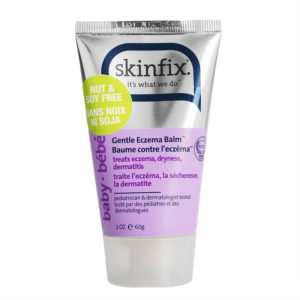 ->Click Here to See Pricing and Reviews on Amazon<-
I kind of wished I bought this one as well for comparison purposes.
Just to recap some of its features:
Free of steroids
Nut-free ingredients
Soy-free
Gluten-free
Paraben-free
Phthalates-free
I purchased the original Body Repair Balm. It does have an essential oil in "ALMOND OIL"… the only nut that I can actually eat!! 😀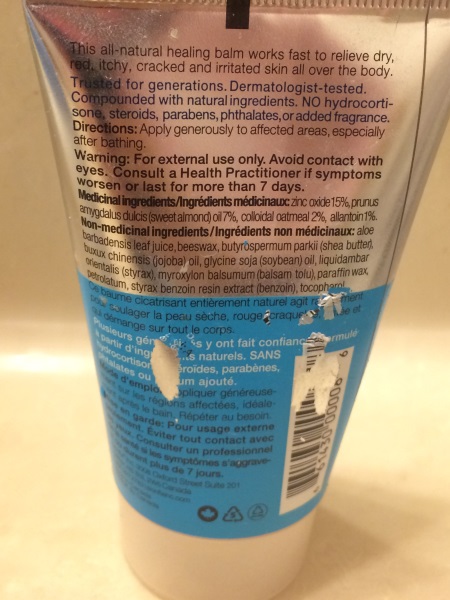 So for those who are allergic to almonds, beware! Regardless what you pick, both versions claim to treat eczema, dryness, and dermatitis.
Some of its ingredients:
Sweet almond oil
Aloe leaf juice
Soybean oil
Colloidal oatmeal
Zinc oxide
It is very similar to the Gentle Eczema balm as it has no hydrocortisone, no steroids, no parabens, no phthalates, nor added fragrance.
Description and Use
Of all the balms I've tried in the past, this one is the thickest!! So it is tough to apply. In fact, SkinFix directed to put it on generously after bathing. I agree that your skin has to be moist enough for easier application. Although, I do find it good enough to apply after a 10-minutes shower.
The balm has a color and almost a consistency of natural shea butter except it is a bit tougher. You can squeeze it and the tube will revert back to its shape. In the beginning, it comes out very thick but after a while the oil kind of separates itself from the balm that you may have to shake it.
It may not be a big deal though unless it comes out like a big splash and it may appear too oily. This may suggest the balm may not be able to retain its consistency over time.
MY FINAL VERDICT
After trying it over 2 weeks on my neck, shoulders, and my elbows (toughest dry spot that never seem to smooth out for some reason- very scaly), I was very impress how the cracks I used to have are less noticeable now and gradually merging into the rest of my normal skin areas. After saying this, I would definitely buy this again.
When it comes to itching.. it is tough to say whether it helps or not as I have previously mentioned many products don't give that instant itch relief. Only after the skin is moisturize and healed for a while, that you notice less itching and scratching.
To summarize, this all-natural healing balm does work fairly fast in relieving dry, cracked and irritated skin. Overall it is great to have in stock for those non-agreeable spots that refuses to heal.