Never Quit, Persevere, be Active in Life! Fight Eczema!
Tag Archives: Talc Free Pressed Powder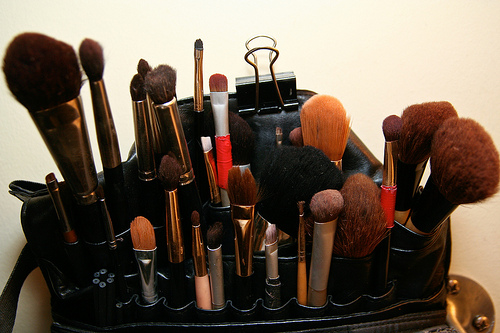 Is Talc and Parabens in cosmetics really bad for eczema or those with highly sensitive skin?
What exactly do we look for in cosmetic products especially for our eczema-prone, dry and sensitive skin? These are questions that will often pop out in our heads as the media or any cosmetics advertisement often present a certain ingredient to be "bad" by indirectly saying "paraben-free" or "talc-free" without really explaining the benefit. This article will present a little bit of history behind these two ingredients along with my personal experience with certain cosmetics that worked on my skin as well for other eczema sufferers with extremely dry skin. Hopefully this will help you determine your own makeup routine.
TALC: A Benefit or a Cost?
There has been rumors from past studies that have shown the possible bad side effects of talc. On the other hand, recently it has been proven to be beneficial for those with normal skin. It has been highly debated on the safety of Talc but studies have shown that it:
Does not necessarily clog pores,
Does not cause lung cancer (if Talc is asbestos-free),
Does not cause ovarian cancer when applying non-deodorizing product such as baby powder (Talc alone) in genital areas (unless Talc was mixed with Silica & other ingredients linked to cancer) (FutureDerm The science of beauty, 2011)
Overall the assumption that Talc causes bad side effects are still inconclusive but proven to be "cosmetically beneficial to the skin, absorbing oil, preventing shine and providing lightweight base for further cosmetic applications". However, its drying effect (oil absorption ability) can be problematic for those with eczema-prone skin and those who suffer dry skin in general. Continue reading